Events
AFSA & NADA: A Successful Week with Auto Lenders and Dealers
AFSA & NADA: A Successful Week with Auto Lenders and Dealers
Last week, our auto experts headed to New Orleans, LA for two large shows –the American Financial Services Association (AFSA) Vehicle Expo & Conference and the National Automobile Dealer Association (NADA) conference. During the conferences, we were asked to share our insights on some key issues impacting the industry and introduced product integrations that will continue to strengthen the auto lending underwriting process benefiting both auto lenders and dealers.
Some highlights include:
AFSA Vehicle Expo & Conference: In addition to attending and sitting in some great sessions, our Chief Economist, Amy Crews Cutts, participated in a tri-bureau panel on the health of the subprime auto lending market that was broadcast live. You can check out the recorded version here. The standing-room only audience received an infographic created by Equifax outlining that the shift in market share among lenders is driving change—not borrower performance as some in the industry have thought.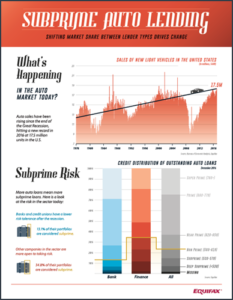 A number of media outlets followed up with stories around the panel and the unique comprehensive perspective it delivered.
NADA Conference: Many of our key customers were at this conference as the NADA celebrated their 100th anniversary. In addition to having a large booth presence and meeting lots of dealers, we made 3 major announcements during the conference around product integrations with dealer solution providers Dominion, Fiserv and Digital Matrix Systems. Our auto experts, Lou Loquasto, John Giamalvo and Scott McMahon were also interviewed by several media outlets, including Car Biz Today.

There were a number of industry announcements at the conference, but our product integrations in support of the auto lending process captured the attention of Subprime Auto Finance News, among others.
We look forward to continuing our participation at these key events as we deliver insights that drive accelerated growth for both lenders and dealers! For more information about Equifax automotive solutions, contact us.