Overview
Recover Losses and Predict Debtor Behavior
Which customers should you try to keep - or win back? Before offboarding a customer, first consider their spending capacity and total estimated wealth to make the most informed decision. If a collections strategy is necessary, you can rely on powerful, specialized solutions from Equifax to help you identify and track down the customers who are most capable of paying, so you can collect before other creditors. We can help you increase your chances of getting payment and improve your efficiency.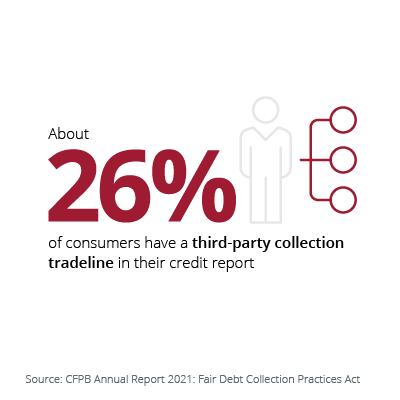 Financial Services
Mitigate delinquency and prioritize debt portfolios based on likelihood to pay
Automotive
Recover more vehicle loan debt
Fintech
Improve the customer experience while increasing recovery rates
Mortgage & Housing
Mitigate loss and manage defaults and foreclosures more effectively
Tools for Speed, Precision, and Prioritization
Unique, specialized collections data
Advanced skip-tracing
Reliable right-party contact information
Employment and income verification
Tailored reporting
Collections portfolio management
Ready to Complete Your Task?
Recommended Products
Need Help deciding?
Connect with our sales team today to get a product consultation.