Overview
Gain consumer insights and enhance marketing performance.
Create more meaningful interactions throughout the customer journey and improve marketing success using differentiated data and advanced analytics. Gain powerful insights about consumers, their financial capacity and their needs and preferences. Identify high-potential prospects, find the hidden opportunity within your customer base, and drive effective marketing campaign strategies. Personalize your offers and connect with audiences across channels.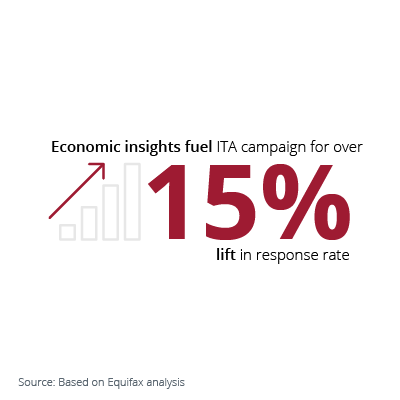 Financial Services
Identify and acquire new customers and optimize your portfolio of existing customers.
Automotive
Engage with in-market auto shoppers with the financial ability to buy your vehicles.
Communications & Utilities
Data insights help you find and keep your best subscribers and reduce churn.
Fintech
Grow your business by targeting the right customers across channels.
The Path to Rewarding Relationships
Gain deep consumer financial insight
Pinpoint the right audiences
Target and message across channels
Optimize offers
Deliver a standout customer experience
Build loyalty and engagement
Ready to Complete Your Task?
Recommended Products
Enhance Online Advertising
Learn new ways to boost your digital campaigns
Grow Your Business with Segmentation
Better understand your customers to advance your marketing
Need Help deciding?
Connect with our sales team today to get a product consultation.