Identity theft checklist
Here are some steps you can take if you believe you've been a victim of identity theft. It all starts with taking action.
Contact company

Contact the fraud department at the financial institution or company where you believe identity theft occurred.

Place fraud alert

Place a 90-day fraud alert on your credit reports. Contact Equifax, and we'll notify the other two major credit bureaus.

Submit ID Theft affidavit

File an affidavit with the Federal Trade Commission at www.identitytheft.gov and get a recovery plan

File police report

File a police report with your local law enforcement agency.

Monitor accounts

Get a copy of your credit report from each of the three major credit bureaus, and start monitoring all your accounts.
How identity theft happens
Here are just a few of the ways:
Steal wallets or purses in order to obtain identification, credit cards, and bank cards;
Dig through mail and trash in search of bank and credit card statements, pre-approved credit card offers, tax information, and other documents that may contain personal details;
Fill out change-of-address forms to forward mail, and intercept mail containing personal and financial information;
Buy personal information from an inside, third-party source, such as a company employee who has access to applications for credit;
Obtain personnel records from a victim's place of employment;
"Skim" information from an ATM — this is done through an electronic device attached to an ATM that can steal the information stored on a credit or debit card's magnetic strip;
Swipe personal information shared on unsecured websites or public WiFi;
Steal electronic records or information through some kind of unauthorized access;
"Phish" for electronic information with phony emails, text messages, and websites that seem legitimate, but are designed to steal sensitive information;
Pose as a home buyer during open houses in order to gain access to sensitive information casually stored in unlocked drawers.
Attempt to open new bank or credit card accounts in your name;
Try to create counterfeit checks or debit cards;
Attempt to file for bankruptcy in your name;
Try to set up phone or utility services in your name.
Fact or Fiction?
Providing a close family member with a list of usernames and passwords is a smart backup strategy.
Fiction
Don't share your usernames and passwords – not even with friends and family. That information can be used to compromise your identity.
Fact or Fiction?
I'm required to provide my healthcare provider with my Social Security number.
Fiction
You are not required to provide your Social Security number to your healthcare provider. Ask if the last four digits will suffice, and don't be shy about asking what kind of security measures your healthcare provider has in place in the event of a data breach.
Fact or Fiction?
I don't have to quickly report a small fraudulent charge on my credit card; that's likely just an honest mistake.
Fiction
If you spot a charge on your credit card that isn't yours, contact your credit card company immediately — even if the charge is for a small amount. Your account can be closed and you can request to be issued a new card to prevent further fraud.
Fact or Fiction?
Identity theft and identity fraud are the same thing.
Fiction
While they sound similar, they are definitely different. Identity theft is when a thief may acquire someone's personal information. Identity fraud may mean that the thief has used the stolen information in an unauthorized way.
Fact or Fiction?
I hear about data breaches all the time, but I don't deal with organizations like the ones I read about. So I'm safe.
Fiction
Any business or organization that processes and/or stores sensitive data is a potential theft target.
Previous
Next
Swipe to view all Fact or Fiction
How to help prevent identity theft
According to the Federal Trade Commission (FTC), protecting your personal information can help reduce your risk of identity theft. Here are some of its suggestions for helping better protect your personal and financial information:
Keep personal documents and files secure. Keep your files and purse or wallet secure at work and at home. Limit the personal identification and credit or debit cards you carry to only those items you need. Cross-shred documents that may contain personal or sensitive information, such as receipts, credit or debit cards, and financial statements. And before you share sensitive information, ask what it will be used for and why it's needed.
Keep your online information secure. Don't give out personal information, especially if you didn't initiate the contact or don't know who you are dealing with. Don't share your passwords – even with friends and family. And be extremely careful about the information you share on social networks – personal information shared online can be used by identity thieves to guess your passwords or answer "challenge" questions.
Secure your Social Security number. Leave your Social Security card at home. When someone asks you to share your Social Security number, or your child's number, ask how it will be used, how it will be safeguarded, why it is needed, and if there are options if you choose not to share it.
Keep your devices secure. Don't use an automated login that stores your username and password, and always lock your devices when they're not being used. Install antivirus and anti-spyware software, and update them regularly. Don't open files, click on links, or download programs sent by strangers. Be cautious about sharing your personal information over public WiFi networks.
Once you've pulled a copy of your credit report, ask yourself the following questions to determine if you could be a victim of identity theft:
Is your personal information, such as your name and address, correct on your credit report?
Are there unfamiliar credit accounts listed on your credit report?
Do you have an unfamiliar account that has late payments or is in collections?
Are there inquiries listed on your credit report from companies you don't recognize?
Fact or Fiction?
Reviewing my credit report once a year is a smart way to spot identity theft.
Fact
True! Reviewing your credit report once a year with the three major credit bureaus or through
annualcreditreport.com
is a great way to spot signs of identity theft.
Fact or Fiction?
When it comes to spotting unauthorized charges on my credit card, using one card dedicated for online purchases may be helpful.
Fact
You may want to consider using one dedicated credit card for online purchases. It can make tracking your charges and potentially spotting identity theft easier.
Fact or Fiction?
Cross-shredding important documents with sensitive information is one way to help protect myself from identity theft.
Fact
Cross-shredding important documents is a smart habit to get into when discarding sensitive information.
Fact or Fiction?
I can reveal medical or insurance information by phone or email to my healthcare provider.
It Depends
Don't reveal medical or insurance information by phone or email unless you made the first contact.
Fact or Fiction?
I should feel comfortable providing personal information to my bank if they ask for it in an email.
Fiction
Even if an email looks like it's coming from your bank or another company you trust, contact the company to verify the email is legitimate before responding, clicking on any links or providing any information. Go directly to the company's website to sign in.
Previous
Next
Swipe to view all Fact or Fiction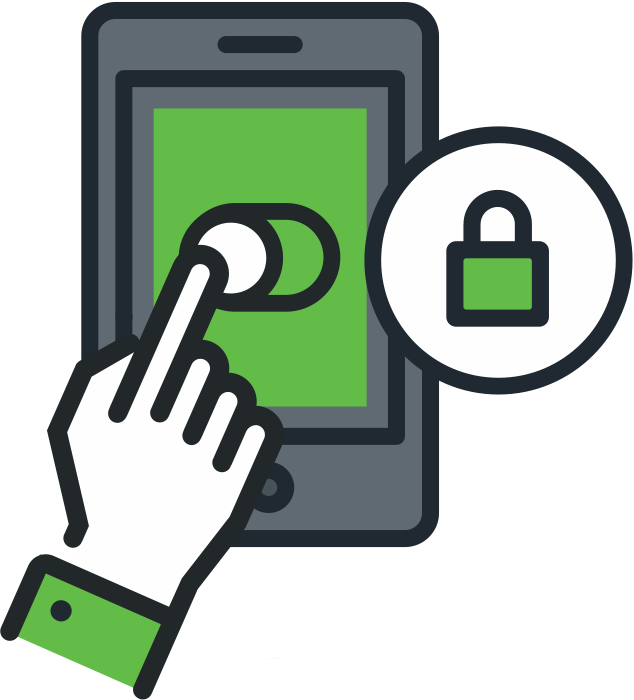 Help control who has access to your Equifax® credit report. It's free.
Equifax is helping put you in control of your Equifax credit report. With Lock & Alert, you can quickly and easily lock and unlock your Equifax credit report with a click or swipe, and we'll send a confirmation alert.1
Locking your Equifax credit file will prevent access to it by certain third parties. Locking your Equifax credit file will not prevent access to your credit file at any other credit reporting agency. Entities that may still have access to your Equifax credit file include: companies like Equifax Global Consumer Solutions which provide you with access to your credit report or credit score, or monitor your credit file; federal, state, and local government agencies; companies reviewing your application for employment; companies that have a current account or relationship with you, and collection agencies acting on behalf of those whom you owe; for fraud detection purposes; and companies that wish to make pre-approved offers of credit or insurance to you. To opt out of such pre-approved offers, visit www.optoutprescreen.com.