Commercial Business
Use Simplified Data and Attributes to Help Solve Complex Challenges
Use Simplified Data and Attributes to Help Solve Complex Challenges
For our February 16 Market Pulse webinar, our panel of experts discussed how you can focus on growth in the current economy. Today, it is important to know how to use simplified data and attributes to help solve complex challenges. I started off the presentation by introducing Chief Economist, Amy Crews Cutts from AC Cutts & Associates and Jesse Hardin, Risk Advisor from Equifax, who demystified key macroeconomic and consumer credit insights. These insights will help ensure you are well positioned to focus on forward and discover hidden risks and opportunities for profitable growth.
To end the webinar, my colleague, David Adams, had a one-on-one discussion with Patrick Reily, Co-Founder from Uplinq on the current commercial market.
Watch a replay of our webinar, "Growth in an Uncertain Economy: Simplified Data and Attributes to Solve Complex Challenges" or download a copy of the presentation here.
Thoughts on the macroeconomy and the year ahead
Our webinar started off with the introduction of Amy Crews Cutts, the Chief Economist for this month's Market Pulse webinar. During the webinar, Cutts discussed the current supply chain, employment, the Federal funds target rate, as well as an update on the National Association of Credit Management's (NACM) Credit Managers' Index.
Starting with supply chains, Cutts stated that global supply chain pressures have eased. However, the global supply chain index shows that these levels are far from normal.
As for employment, we are continuing to see a rise, as the Federal Government increases interest rates in order to slow down inflation. Currently, hires and quiets are trending down. This leads to many wondering if this is a turning point for employment, shown in Figure 1 below.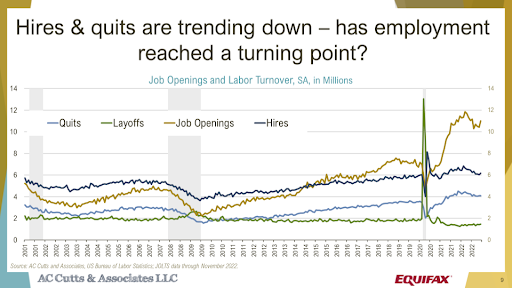 Next, Cutts examined the Federal funds. The Federal Funds target interest rate is currently low, relative to historical high inflation periods, shown in Figure 2. Cutts stated that forecasters predict for the Fed to raise rates through mid-year and begin cutting by year-end.

When Cutts reviewed the NACM Credit Managers' Index, it showed economic expansion, as seen in Figure 3. However, according to Cutts, it is trending down quickly. Favorable factors continue to be strong with the exception of sales. Yet, when it comes to unfavorable factors, Cutt explained they are in contraction especially in terms of account performance.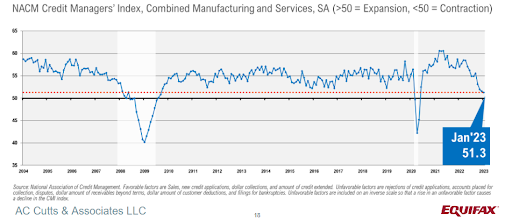 Digging into the Industries
To end the webinar, my colleague, David Adams, had a one-on-one discussion with Patrick Reily, Co-Founder of Uplinq Financial Technologies, on the current commercial market. First, they discussed how new businesses are continuing to grow. However, that means competition for these businesses will also rise. In 2021, 5.4 million new businesses started, surpassing the 2020 record of 4.4 million.
And the majority of these businesses are small businesses, with over 99% of paid-employee firms in the U.S. being a small business. Age and size of a business are huge factors in determining the risk your business is in. In Figure 4, one can see that the younger your company is, the more you are at risk in the current economy. The older and bigger your company is, the better your outcome may become.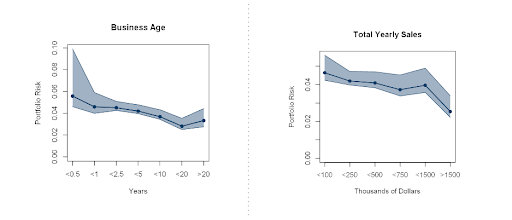 But what besides age and size matters when it comes to your business and its success during these uncertain times? Location.
According to Figure 5, location plays a huge role in the success of your business. The closer you are to a hospital, university, and grocery store, the higher of a success rate you will have compared to other small businesses.

To conclude, Reily went over some statistics on small businesses. Some of the key facts from the webinar included the following:
Retailers and Merchants make up over a quarter of the new business start-ups.

Small businesses are some of the most capital intensive businesses with a greater need of access to credit.

Assessing credit viability and stability of those businesses is still one of the most difficult in the industry.
* The opinions, estimates and forecasts presented herein are for general information use only. This material is based upon information that we consider to be reliable, but we do not represent that it is accurate or complete. No person should consider distribution of this material as making any representation or warranty with respect to such material and should not rely upon it as such. Equifax does not assume any liability for any loss that may result from the reliance by any person upon any such information or opinions. Such information and opinions are subject to change without notice. The opinions, estimates, forecasts, and other views published herein represent the views of the presenters as of the date indicated and do not necessarily represent the views of Equifax or its management.