Data Driven Marketing
Podcast: What the Next Generation of Data Looks Like for the Auto Industry
Podcast: What the Next Generation of Data Looks Like for the Auto Industry
I've spent my career in the automotive industry, and lately I've noticed a pattern. Data is critical for relevant marketing, but in recent years the auto industry has experienced diminishing returns on its data usage. In fact, I would go so far as to say it has tarnished the customer experience in some cases.
While other industries have harnessed the power of more sophisticated data sets and data tools, the auto industry has lagged. For example, personalization for many in the industry has not progressed beyond an email with my name on it. And at least twice a week, I receive an industry email with brackets that reads "insert name here." This is not a good customer experience.
Fortunately, innovative companies like Orbee are stepping in to offer more sophisticated data solutions. In the most recent episode of the Market Pulse podcast from Equifax, I interviewed Atul Patel, CEO and co-founder of Orbee, which offers digital marketing solutions for auto dealers.
Auto Industry Hampered by Siloed Data
Consumers have become accustomed to a connected customer experience that saves them time and makes their lives easier. Consider how Amazon offers product recommendations based on a consumer's buying history. Patel explains that the auto industry cannot yet offer such sophisticated marketing because of its siloed data. Customer data can be found in dealer management systems (DMS), customer relationship management systems (CRM) and other systems.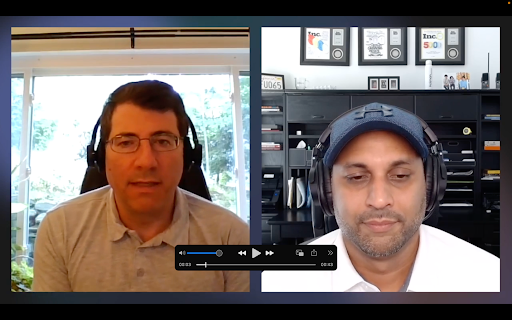 (image shows Brian Epro, Alliance Manager – Automotive, Equifax and Atul Patel, CEO and co-founder of Orbee)
"I think the biggest obstacle worth solving over the next few years is the democratization or the opening and the integration or consolidation of this data," Patel explained. "And there's a couple of benefits to that. The consumer benefits because of the disparate touch points they've had with an automotive dealership. If dealers could see all that data in one place, then the consumer is going to absolutely see more powerful, contextual, personalized massaging that makes sense for them."
Benefits of Augmenting Data
There is an opportunity in the auto industry to consolidate data so marketers can conduct event-based marketing, which offers consumers personalized communications based on their behavior. Patel said he believes they are just around the corner in terms of breaking through on this type of contextual personalization.
"We talk about income, and other behavioral data, demographic data, household data. The consumer really can benefit from having all this data integrated," he said. "Consumers don't have time to shop and search through filters for the right thing. If the brand or the companies who are trying to sell us things do some of that work and use some of our data in a privacy-safe way from a first-party data standpoint, then it speeds up the process and creates a far better customer experience."
Mapping Customer Journeys
Regarding personalization, I've learned that good use of data is a virtuous circle. What I mean is that effective personalization is rewarded by better data models, and those better data models enable better personalization, ultimately creating completely customized and personalized customer journeys for each individual engaging with a brand.. And that is rewarded by the creation of good customer journeys. I have a better understanding of how to personalize your experience and I can find more people like you and do the same for them. In Auto, the ultimate goal of this virtuous circle is to sell more vehicles and services at higher margins. Good use of data makes this possible to do, today.
"If auto dealers take the time to take their entire history of data, process it through this first-party sort of insights, enrich that data, they could then identify over the course of decades what has worked for their brand," Patel said. "And they could see how that has changed over time and evolve accordingly."
Patel used the example of EV popularity. He said based on consumer history over the last two decades, dealers can determine how they should market EVs differently.
For more on this topic, listen to the full interview with Patel or listen to past episodes of Market Pulse.