Recession Readiness Insights
B2B Marketing: Bringing Precision to Ecommerce Customer Acquisition
B2B Marketing: Bringing Precision to Ecommerce Customer Acquisition
The right insights: The key to targeting and acquiring new and high-growth eCommerce merchants is having the right insights
Even with market changes, growth in the retail and online eCommerce sector continues to accelerate with online retail sales expected to reach $6.17 trillion by 2023.
As the eCommerce sector grows, so has a thriving ecosystem of service providers to help these online retailers be successful. Unfortunately, with growth comes greater competition. For the marketing and sales teams looking to secure online merchants as customers, getting a generic list of eCommerce businesses is no longer enough.
The Challenge: Finding the Most Valuable eCommerce Businesses
Companies still struggling to identify which businesses to target are an age-old challenge. eCommerce businesses don't have the same data footprint as brick-and-mortar. This makes it harder for sales teams to prioritize their efforts to target customers with the highest revenue potential.
For example, distinguishing between a small eCommerce business at $500,000 in annual revenue and a fast-growing eCommerce business at $5 million in annual revenue is not that easy without a significant amount of research. This sometimes means businesses spend valuable time on the wrong businesses. These businesses can be missing out on revenue opportunities.
The Importance of Accurate Data for Precise Segmentation
To identify top targets, you need the right data. Accurate data enables marketing and sales teams to precisely segment prospects and focus their resources on the eCommerce businesses that are the right fit for their products and services. With the cost of customer acquisition increasing throughout 2021 and 2022, growth teams are doubling down on quality over quantity.
In a market where every dollar counts, precise segmentation helps sales teams focus on the right prospects. Segmentation can unlock higher ROI on marketing campaigns. Businesses need to:
Quickly discover revenue shifts - See recent revenue fluctuations that may move a prospect into or out of your ideal customer profile.
Gain a competitive edge - Leverage insight into eCommerce growth rates to target fast-growing businesses before the competition
Identify seasonal businesses - Visibility into revenue over time enables you to include or exclude seasonal businesses from your campaigns.
Understand transaction patterns - Target businesses using transaction volumes and average transaction size.
eCommerce firms are dynamic – their revenues can change a lot over the course of a few months. Yet, most B2B databases rarely update revenue data. This leaves businesses with stale and out-of-date information. To ensure you have access to the most recent intelligence, you need to update growth and revenue data monthly. Revenue and growth data needs to be updated
monthly to ensure you always have access to the most recent intelligence.
The Analysis: Testing Revenue and Growth Accuracy
At Equifax we've spent a significant amount of time working to create a more precise segmentation of eCommerce merchants. Through our partnership with Enigma, customers can now also gain visibility into business card revenues, revenue growth, and even average transaction size. Enigma's revenue and growth data is built directly from card transactions made at a business and on its website.
When comparing this dataset to one of the leading competitors, Equifax and Enigma had accurate revenue information on 29% more businesses (based on a random sample of 200 eCommerce companies).
Revenues Reported for Sample Businesses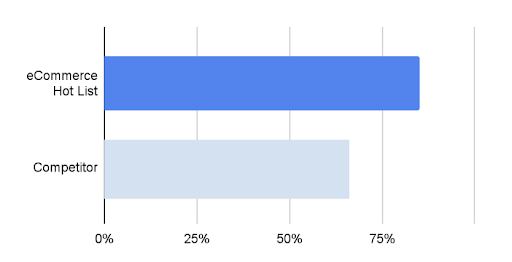 For businesses with an estimated $5 million in annual revenue (or less), the alternative data provider couldn't provide the granular revenue data. Equifax and Enigma were able to provide greater visibility into the annual revenues and growth rates for smaller businesses.
Equifax and Enigma were also able to report on valuable prospects with higher revenues. On average, the competitor's revenue estimates showed only 33% of the actual revenue from card transactions at a business. Underestimated revenues can translate to missed opportunities and wasted time chasing the wrong prospects.
Customer acquisition starts with identifying the right prospects. Do you have the data you need to find your next eCommerce customers? For more information visit our website.