Credit Risk
Auto Industry Recovery: 3 Key Takeaways
Auto Industry Recovery: 3 Key Takeaways
June 10, 2020 | Jennifer Reid
The economic uncertainty caused by COVID-19 has impacted the automotive industry in complex ways. The entire auto ecosystem has been adapting to the ever-changing macroeconomic and local conditions around the country. On May 28, we hosted auto industry and economic experts for our webinar, "Market Pulse: Potential Impact on the Automotive Industry in the Wake of Uncertainty." Here are three key takeaways.
The auto industry is recovering – for both retail and wholesale.
Auto sales were off to a fairly strong start in March until the pandemic hit. At that point, new auto sales plummeted to their worst point – down about 80% on a year-over-year basis. The lowest point was at the end of March. However, there has been a steady increase since then and even some acceleration in early May due to areas of the country opening back up. In particular, it's estimated that new vehicle sales were down 35% year-over-year the week of May 18. Memorial Day weekend was expected to present a very hard comparison in terms of what was sold last year. Normally, Memorial Day weekend is a very important weekend for both new and used vehicle sales.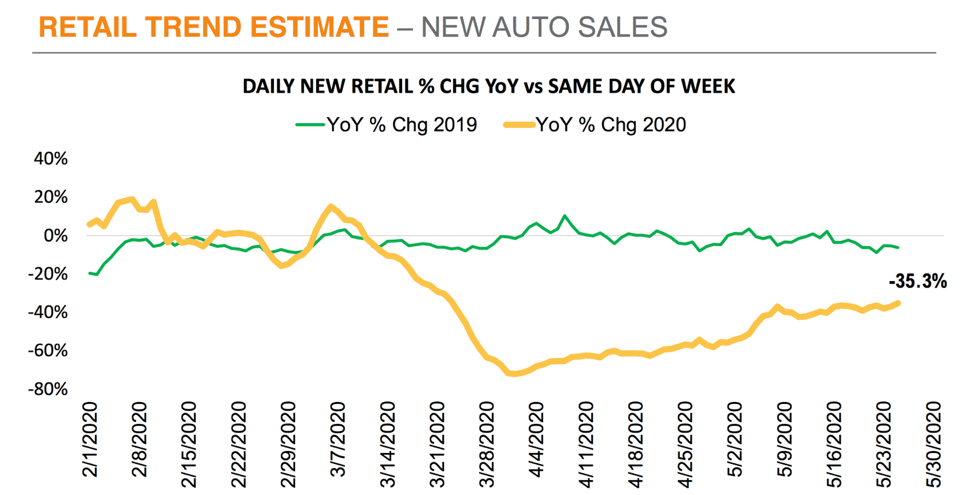 There is a similar trend in used vehicle sales, which were even stronger in early March due to the tax refund season. But sales quickly declined, estimated at about 80% down at the worst point in the beginning of April. Unlike steady progress in new sales, used has been more sporadic. That is due to new-vehicle incentives for both consumers and dealers. It's estimated that used vehicle sales were down 18% year-over-year during the week of May 18.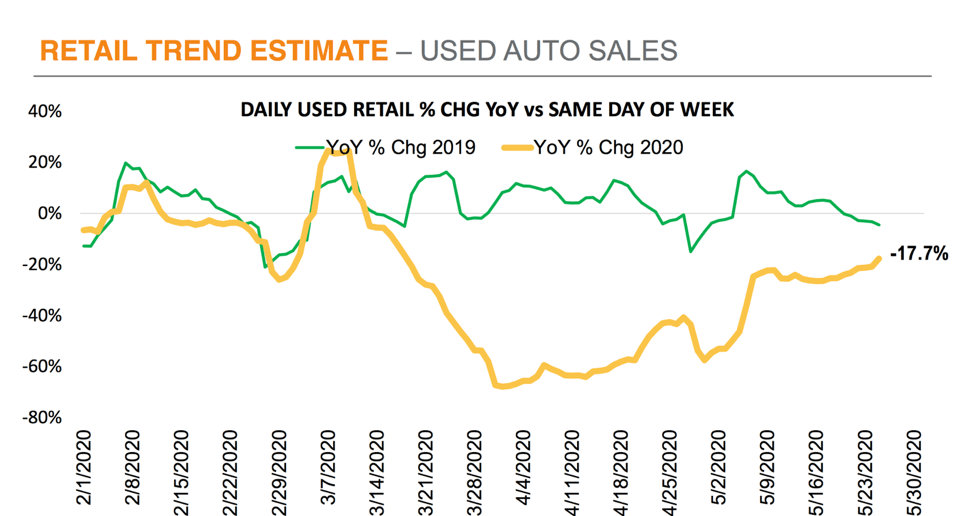 Credit is available, and it's supporting the recovery.
The prevalence of 0% APR offers that often have included payment deferrals has been extremely attractive to consumers who were in a position to buy. Furthermore, they've had a tremendous impact on the traffic in new vehicle sales that we have seen in April and May. The share of such deals was only 2.4% in February and 6.6% in March, then a whopping 21.4% in April, and 17.1% in May.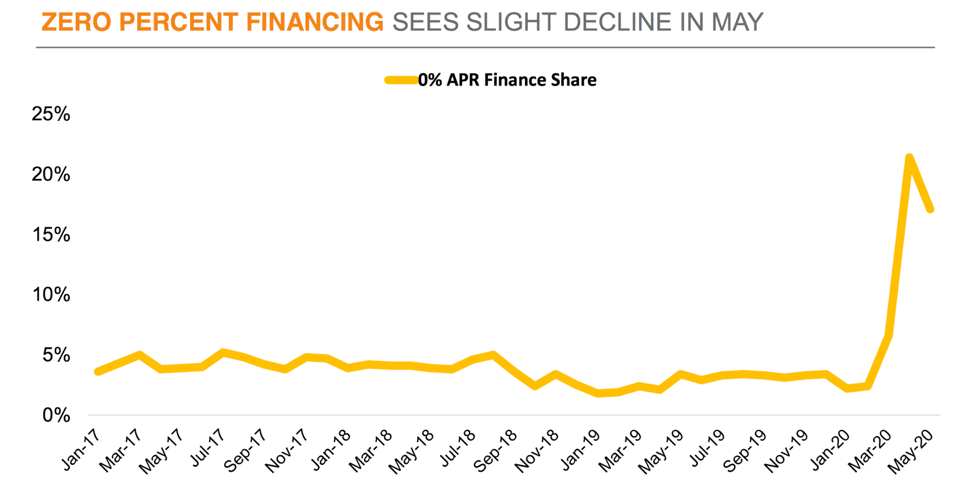 However, this aggressive financing won't continue long-term. We're already seeing a decline because there are now fewer vehicles that are eligible for those offers. We're seeing some of the loan terms get shortened. Additionally, we've seen the number of deferred payments reduced. We expect this to continue as the months progress. That's because the new vehicle market is in the early stages of running out of supply.
Local markets vary greatly, depending on COVID-19 impact.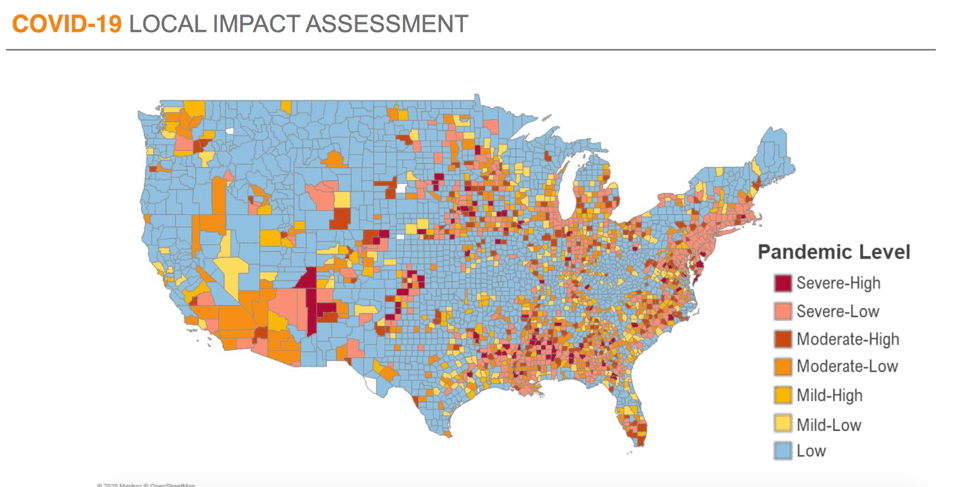 We're observing a direct correlation to consumer sentiment related to this pandemic. And, historically of course, consumer sentiment declines relative to unemployment. Using data from Morning Consult, we are able to drill down to specific markets. In the heat map below, you can see what markets look like relative to where consumer sentiment was at the end of February.
However, we do see some variation with the level of the impact. Twenty-seven markets have seen a mild decline. That is less than we observed for the U.S. overall, and those are indicated in yellow. We see the vast majority, 92, in that pinkish color, tracking along, more or less, with the U.S. And then we see severely impacted markets, which are indicated in red.
On the second map, we're taking the same data, but we're looking specifically at how it changed last week. And I mentioned that last week was the best week we'd had in more than a month in the national numbers. We really see that playing out at a local level because it was a good week for the majority of markets. Eighty-seven markets were up more than a point last week (indicated in green on the map). Forty-two were down (indicated in yellow).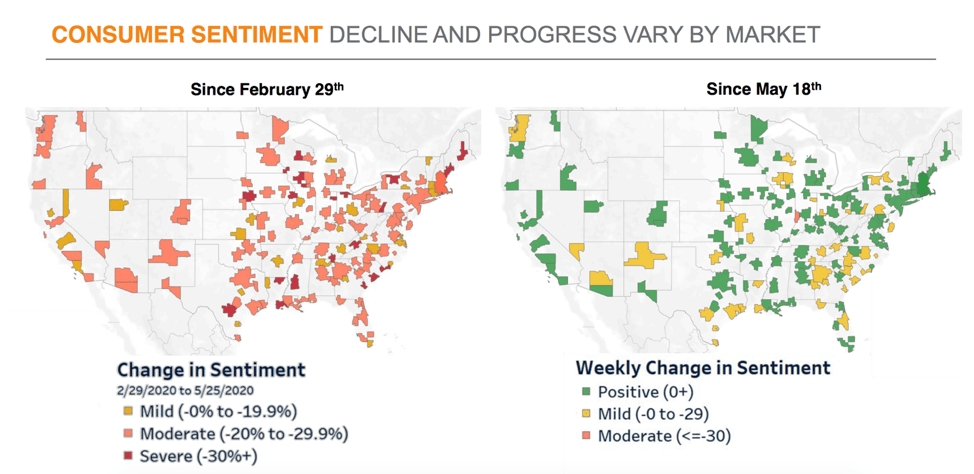 Watch our complete on-demand webinar for a U.S. economic update, consumer credit insights and more on the impact on the automotive industry.