Data Driven Marketing
Checklist: Marketing Strategies for this Recession
Checklist: Marketing Strategies for this Recession
Advance your business with data-driven recession marketing strategies
In early June, The National Bureau of Economic Research announced that the United States officially entered a recession. Then, the Commerce Department reported in late July that the GDP had shrunk by an unprecedented 32.9 percent. The looming implications left many financial services marketers with little time to brace for impact. As a result, they scrambled for recession marketing strategies to move their business forward.
A recent Equifax webinar survey of marketing professionals confirms the struggle. The majority -- 83 percent -- said they are either treating this recession differently than the last one or they are still trying to figure it out. Based on these results, we have compiled a brief checklist of data-driven tactics to consider when building recession marketing strategies. Financial marketers can implement these ideas to better serve their customers and get back on track towards a secure, profitable future.
1. Financial "durability" varies, so find your sweet spot(s).
I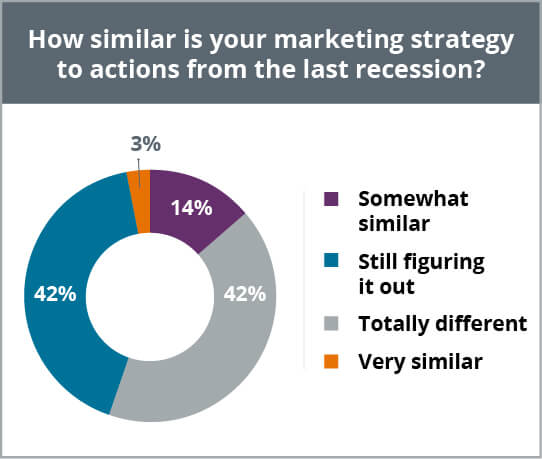 n times of financial uncertainty, it is crucial to look at the bigger picture to gain an understanding of a consumer's financial health. We call this 'financial durability'. It comprises multiple facets of economic capacity, such as assets, ratio of debt, income, spending and credit utilization. And it varies across the country.
For instance, in the map below you can see financial durability is lower at the center of densely populated cities, yet it increases as you move into the suburbs. With a data-driven view of geographic "hotspots," you can better target and message consumers depending on where they live.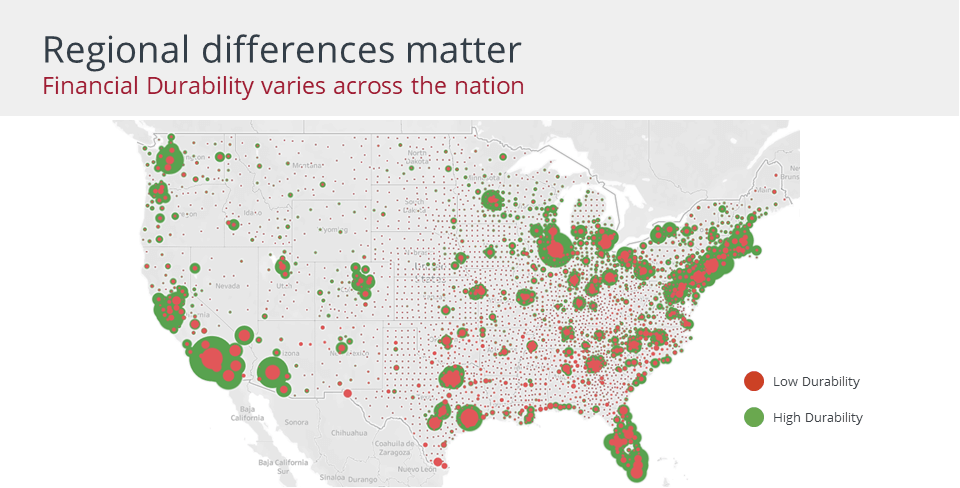 Source: Equifax, July 2020
Consider analyzing your customer portfolio to understand how variances in financial durability are dispersed within your customer base. In turn, you will have a more accurate view of financial capacity to help intelligently pivot to adjust your marketing message based on regional differences.
2. Protect your most valued asset—your customers.
Today, especially, companies are working harder to retain their high-value customers. Yet, below that "high-value" threshold are loyal, quality customers who may need help. Equifax research from this year shows that one-third of near-prime consumers have less than $2,500 in the bank. When combined with today's mass furloughs and layoffs, the financial strain only intensifies. These customers are worth fighting for, too; you just need a different strategy. Identify at-risk customers before a default or write off occurs and take pre-emptive action to help them in tough financial times. You can do this by applying updated credit scores and attributes, plus verified employment and income data to current customer accounts. This helps you see sudden changes in credit, employment or income, and proactively offer deferred payment plans or waive late fees to preserve the account. You will then gain wider, updated views of all your customers so you can grow the business as market conditions evolve. It is a smart strategy in a recession economy.
3. Nail your digital audience.
One major thing separates this recession from all others: quarantine. With many businesses temporarily closed and people being urged to stay home and telework, internet usage has soared up to 70 percent, with digital streaming up 12 percent. If ever there was a time to up your digital game, it is now. According to our recent webinar poll of marketers, 59 percent are using a mix of marketing channels including online, mobile and social media display ads, email and addressable TV, in addition to direct mail. It is the best way to reach people where they're spending their time these days—at home, online.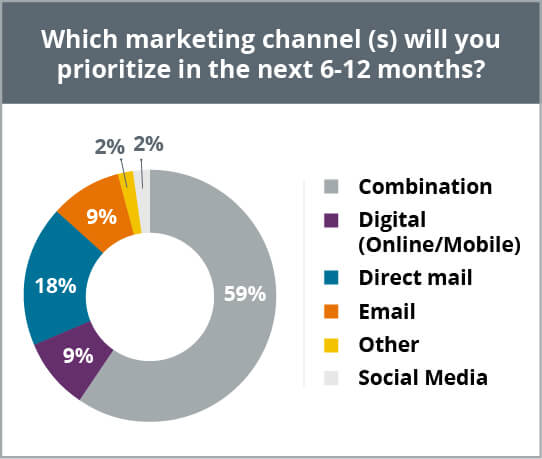 Responses from Marketing Professionals, June 2020
However, successful digital marketing is also about connecting with the right people, and this is where digital targeting can help. It helps marketers focus on specific consumers who are more likely to have the desired economic capacity and purchase intent for their products and solutions.
For example, take an auto lender that wants to display its addressable TV ads to select households. Digital targeting can pinpoint households with incomes above $250,000, discretionary spending over $100,000 and behaviors that indicate they're likely in the market to purchase a new vehicle. Digital targeting helps you to prioritize limited budgets against target groups that represent your best opportunities. This makes digital targeting a particularly effective recession strategy. You can then efficiently build and reinforce the brand message with key audiences throughout periods of uncertainty.
4. Plan your post-recession strategy now.
Eventually, the economy will rebound and when it does, marketers will need to address two key consumer groups. In both cases, alternative data will be mission critical. For credit marketers, it can help gauge risk and opportunity with greater precision. And it is based on a consumer's employment and income and how they pay their cable, utility and cell phone bills.
Group 1: Those who were significantly impacted by the recession. They will likely be in "recovery mode," attempting to reconcile delinquent payments and outstanding debt, while working to rebuild damaged credit.
Confidently target lower-risk consumers in the near-prime and sub-prime space to grow business during a critical period of economic recovery. Likewise, you help them improve and restore their credit standing.
Group 2: Those who were not hard hit by the recession. Their financial health remained intact, and they may be looking to capitalize on market opportunities and purchase undervalued assets.
Visualize "recovery opportunities" among these consumers, adjust your messaging accordingly and target them for additional services and credit line increases. This further advances their credit standing, and it helps them grow their personal wealth and investment portfolios.
No one can decidedly say how long this recession will last. However, marketers can adapt their strategies now to help better understand customers and get back on track toward revenue growth. To learn more about the, please visit our latest marketing trends.