Data and Analytics
What is the Equifax Cloud and How Does it Benefit Customers?
What is the Equifax Cloud and How Does it Benefit Customers?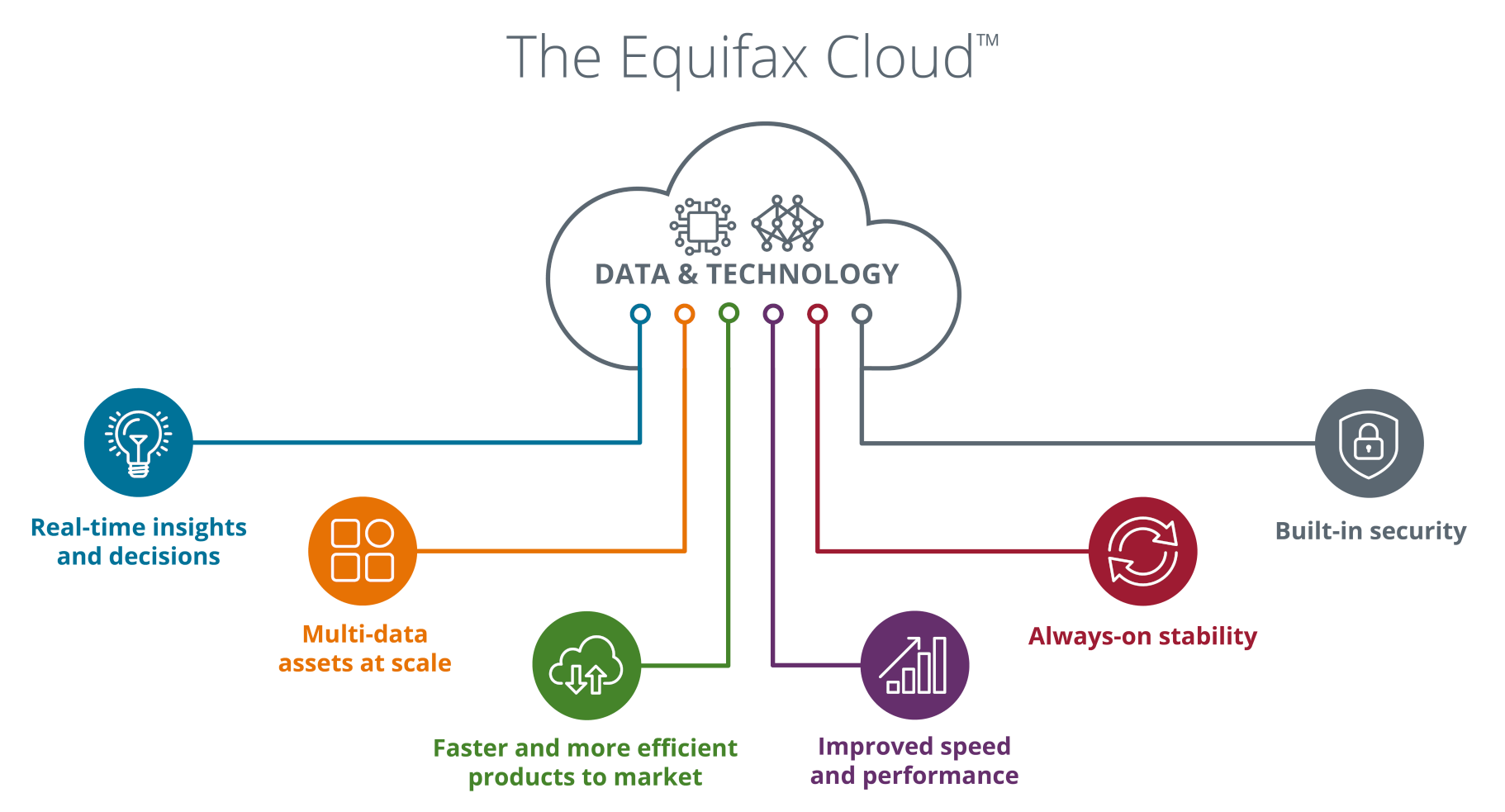 The Equifax Cloud™ is the new foundation of our business. Built primarily on the Google Cloud, it is the result of our $1.5B investment in a world class enterprise-wide cloud-native infrastructure tailored to highly regulated data workloads. This unique operating environment allows us to provide increased performance, uptime, data management, governed access, and security.
The Equifax Cloud helps our customers innovate faster, create more effective insights, take smarter actions, and ultimately deliver better outcomes at scale. Jump ahead to a specific section:
Real Time Insights and Decisions
Our data fabric is built on standard architectural principles to allow us to ingest, store, and process a multitude of different data formats, and we now have the ability to process and find value in a continuously growing volume of structured and unstructured data. The Equifax Cloud enables developers to rapidly innovate and data scientists to spend less time sifting and sorting and more time investigating and deciding. Applications are engineered in standard cloud-native code to allow for easy integration between data sets via developer friendly application programming interfaces (APIs) and software development kits (SDKs).
Multi-data Assets at Scale
More data drives better solutions. The challenge is managing the multi-data assets and massive scale of data, while respecting the different requirements that apply to different data sets. Uniquely, Equifax moved our siloed data assets into the data fabric, which brings the data assets together into a connected platform that still allows for data isolation and management of regulatory requirements where necessary. The data fabric offers the ability to ingest and analyze at scale, as well as enhanced keying and linking of our data assets for delivery of multi-data solutions leveraging Equifax's differentiated data.
Faster and More Efficient Products to Market
The Equifax Cloud speeds development, deployment, data delivery and time to market from months to weeks, and enables high-velocity product innovation and co-innovation using artificial intelligence and machine learning to enrich our multi-data assets. With instantly scalable environments, we can now test more rapidly and deploy in a blue/green manner to lower our risk, while increasing speed. With the Equifax Cloud, we can build something once and then deploy it in any of our 24 markets, with market specific customizations that require very little engineering. This speeds our delivery timelines dramatically, while also lowering the costs to our customers. Additionally, the Equifax Cloud eliminates the need to own, run, maintain and integrate with legacy infrastructure, and means customers no longer have to use on-premise software or hardware to work with us.
Improved Speed and Performance
Putting our IT infrastructure in the cloud allows us to vastly improve speed and performance. We can now leverage many different geographic locations to reduce network latency and allow for faster application results. We have reduced our complexity by more than 50%, which removes extra layers and hops to improve performance by 10x or more.
Always on Stability
Reliability is one of the primary value propositions of the Equifax Cloud. The move to digital interactions with consumers in every aspect of their lives requires a new level of stability and uptime. Our products, data, solutions, and services are always on and always available. The Equifax Cloud is built to expect failure and offers layered redundancy, leveraging multiple availability zones and multiple regions to help ensure no single outage will affect customer computing performance.
Built-in Security
Equifax understands the particular importance of built-in security controls for sensitive data and systems. Security is built into our systems, not bolted on. Our cloud-native technology stack exceeds an on-premise security posture when combined with the implementation of our industry leading security controls. The Equifax Cloud is inherently more secure than legacy systems because the surface area for attacks is reduced and technology updates and patching are highly automated. Our cloud environment is automatically upgraded with each software release to ensure we are taking advantage of the latest generation of hardware and services.
The Equifax Cloud powers the benefits that Only Equifax can bring to you. To find out more, please visit here. In addition, Google Cloud recently wrote a case study on the Equifax Cloud that provides good information and a video on the business benefits of the cloud.