Identity & Fraud
6 Ways to Combat Online Fraudsters
6 Ways to Combat Online Fraudsters
"The truth is, your identity has already been stolen. More than 800 million security breaches have occurred, and we have only about 320 million people in this country." – Frank Abagnale, Con Man and Fraud Expert
For most, the reality of the above headline is absolutely petrifying. The Internet has made it convenient for consumers to get access to hundreds-of-thousands of goods, services and technology. All while making it easier for fraudsters and criminals to take advantage of businesses and consumers. It's sort of like being on a playground, where there are kids at play, teachers making sure no one gets hurt, and unfortunately one or two bullies causing havoc.
Fraudsters are Like Playground Bullies
As with a playground bully, most people don't recognize the fraudster at first. "Consumers don't see how many times an organization is attacked every day. Every hour. Every minute." says, Mike Urban, VP of Identity and Fraud Consulting at Equifax. "Millions of real and fake identities are available for any crafty criminal to use or for any highly staffed organized crime ring to take advantage of. Attacks can be scaled and made to look like real people."
Originally, this type of activity occurred in the physical stores and then the chip and pin were introduced, which decreased fraud to its lowest levels in years. As a result, fraudsters turned to the internet. As a result, card-not-present and application fraud surged. According to The Merchant Fraud Journal, card-not-present fraud is expected to cost businesses $130 billion by 2023.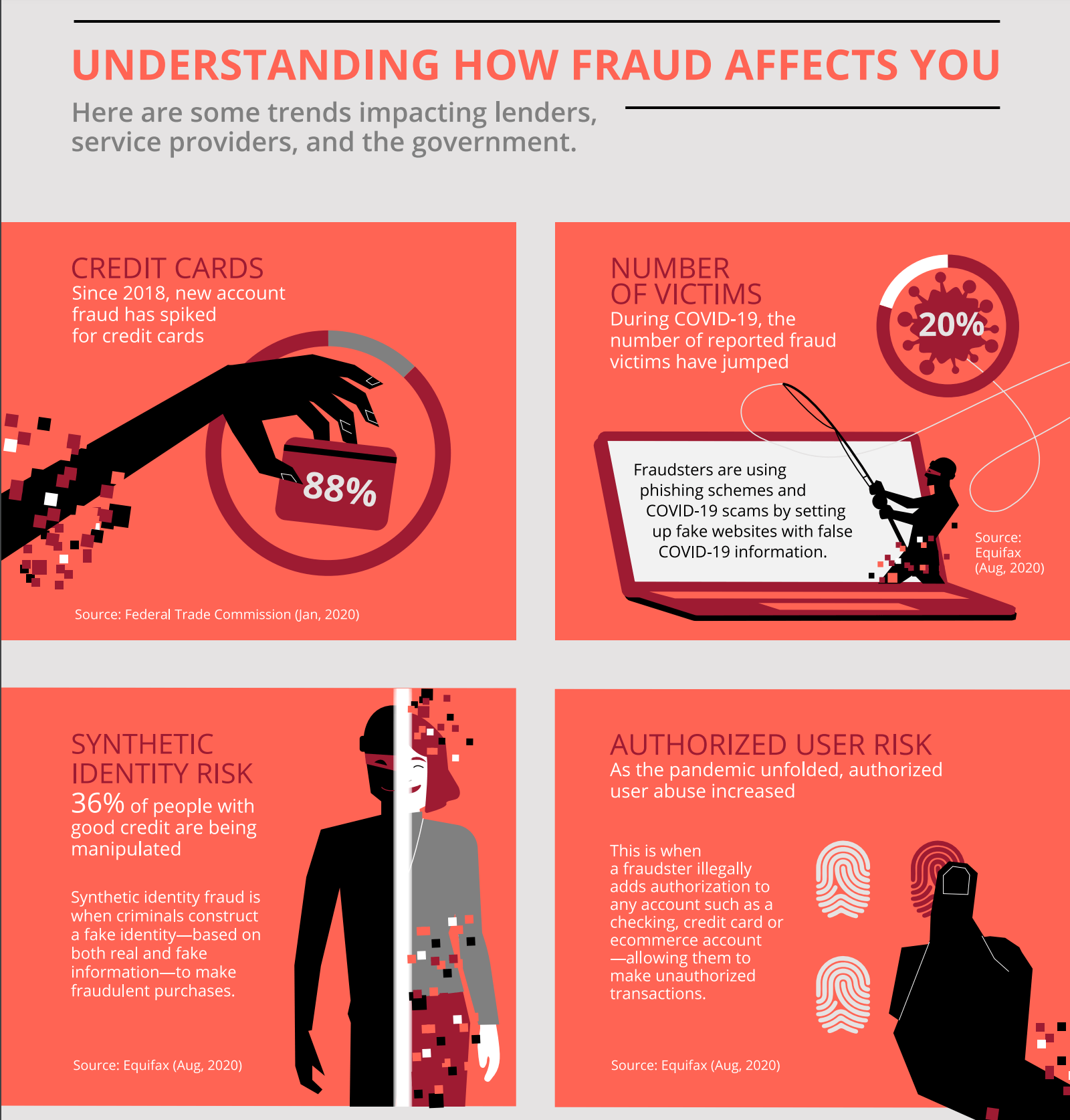 How to Identify Fraudsters
Unlike POS, where information on the criminal may be limited to security footage, the internet yields an abundance of information. Examples include service ID, IP address, user behavior, email, bot detection and more. All of this can be used to identify potential fraudulent behavior and track the fraudsters. It may even stop them before they are able to take advantage. It's like having four different teachers on the playground working to figure out who the bullies are. Unfortunately, if the teachers don't talk to each other once they find a bully, that bully will just move on to a different area of the playground.
How to Defeat Fraudsters
In this age of technology, we recognize fraudsters will always be present. However, many companies are using these methods to stop the bullies:
Integrate Data: Leverage technology to create efficient workflows and ensure that the information -- like device, IP, behaviors and more -- are coming together.
Combine PII with Digital Signals: Take advantage of the data you know is real, and connect it with what people are doing online. Data could be email, address, phone number, etc.
Build Connections: From the point someone starts filling out an application, start tracking behavior and check for abnormalities. For example, someone lives in California, but their device IP is overseas.
Act in Real Time: It's no longer enough to analyze information monthly. With machine learning and intelligent solutions, it's possible to act quickly through automation.
Identify Trends: As Urban says, "There's no such thing as a criminal that commits one crime. Ever!" When fraud is identified, use that same machine learning to flag similar behaviors or activity.
Double Check: Just because a new application looks good doesn't mean it's not important to double check. Use a known phone number or email to authenticate they are who they say they are.
The bullies are out there. But with the right technology and approach, it's possible to curb some of those delinquent behaviors. Visit www.equifax.com/luminate to learn more about Equifax and the solution that is helping defeat the fraud bullies.