Identity & Fraud
How Insurance Carriers can Reduce Costs and Fraud
How Insurance Carriers can Reduce Costs and Fraud
March 14, 2022 | Laurie Anderson
Time to stop fraud in the insurance world
Annually, in the P&C insurance world there is $40 billion in fraud. What used to be difficult for fraudsters to fabricate can now be done in seconds by anyone with a smartphone, which is one of the many reasons fraud has increased. There is no longer trust when it comes to digital media, especially in the enterprise world. Nowadays, people can easily replace, falsify, or synthetically generate photos. Knowing this dilemma, how can we reduce the potential for fraud while streamlining verifications and reducing costs?
Equifax partners with Truepic for virtual inspection platform
Equifax has announced the addition of Truepic's Vision Virtual Inspection Platform to its insurance solutions portfolio to help insurance carriers quickly streamline claims and underwriting interactions, weed out fraud, and reduce costs. Truepic's flagship digital inspection platform brings real-time transparency and trust to digital photo and video transactions from anywhere. All verified information is cryptographically sealed to protect people from tampering in real-time before it reaches the intended recipients.
With our partnership, we can help you build identity trust by combining digital and physical attributes. Using a digital, real-time solution like Truepic Vision helps to identify and eliminate over 95% of image-based fraud.¹ This platform modernizes and simplifies the inspection process by making it easy for a customer to capture an image that is instantly downloaded to the Truepic Vision app. Truepic verifies every pixel based on date, time, and location and instantly sends the verification results to the customer.
Traditional versus Truepic inspections
For years, third-party inspections for insurance carriers have been slow and expensive, often taking weeks to schedule and complete — a challenge that has only exacerbated during a pandemic environment. Furthermore, physical inspections are sometimes viewed as counter to today's heightened business concerns around environment, social, and governance (ESG) initiatives that have businesses focused on being good stewards of our natural resources. With Truepic's virtual inspection platform, inspections can be completed faster and reduce the carbon emissions associated with driving to conduct physical inspections.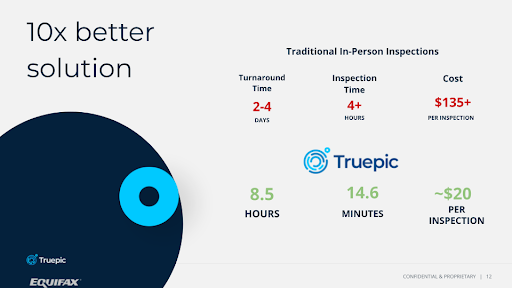 As shown in the image on the left, a traditional, in-person inspection takes on average two to four days (sometimes longer) for an inspector to be onsite, and in many cases costs more than $135 per inspection. With Truepic, an inspection can be completed within hours and costs around $20 per inspection. At Equifax, our goal is for our customers to say "yes" more confidently. Now, with Truepic Vision, you can.
The benefits of a digital inspection platform
In summary, this new partnership comes with many benefits for insurance carriers, including:
Helping companies quickly establish trust with customers
Eliminating safety concerns
Saving time and streamling interactions
Weeding out fraud
Reducing costs and expenses of traditional inspections
Reducing companies' carbon footprint
Truepic and Equifax share a common goal of helping insurance carriers deliver a better customer experience. With this partnership, we are committed to helping you identify and stop fraud through visual media while managing costs and risk to your business.
To learn more about Truepic Vision, click here and to view more on Equifax identity and fraud solutions, visit Equifax.com

1 Source: Truepic