Data and Analytics
What's Going on with the U.S. Economy?
What's Going on with the U.S. Economy?
For our May 19 Market Pulse webinar our presenters discussed the recent economic update, consumer credit trends, and small business trends, opportunities for digital banking as well as, how to manage digital fraud across the customer journey. Our guest speakers included Robert Wescott, President & Founder at Keybridge; Tom Aliff, Risk Consulting Leader at Equifax; and Adam Gunther, Senior Vice President & CPO of Global Identity & Fraud Product Management at Kount, an Equifax company.
Below is an overview highlighting the key points from the webinar. To watch the full webinar you can go to our website here.
Economic Update
The U.S. economy is at a critical juncture. In the final quarter of 2021, the economy grew rapidly as people returned to work, traveled more, and spent. In recent months, however, stronger headwinds have emerged. Covid lockdowns in China and Russia's invasion of Ukraine have worsened supply chain disruptions, energy prices have climbed, and inflation remains stubbornly elevated. Indeed, Wescott noted that U.S. GDP shrank by -1.5% in the first quarter of 2022.
At the same time, the labor market remains very tight: there are nearly two job openings per job seeker right now and unemployment is very low. But, real hourly earnings growth has turned negative due to high inflation.
In light of the inflation situation, some are asking if the Fed is "behind the curve" and whether it should have shifted to a tighter policy stance earlier. Indeed, the Fed has started to accelerate rate hikes and many financial market experts project that the federal funds rate will reach 2-1/2% or so by year's end. Wescott believes, however, that even greater increases will be necessary to counter inflation. In particular, he is concerned that inflation is becoming more embedded in wages and in service-sector prices, which make it harder to contain.
Fiscal stimulus measures in response to COVID-19 boosted bank balances for many households, but lower-income households experienced the greatest gains. Interestingly, new research has found that the stimulus measures helped drive economic activity by more in low-income neighborhoods than higher-income neighborhoods. But, as fiscal support has faded, financial challenges have increased over the past year, especially for lower income households. According to recent surveys, 61% of households earning less than $25,000 reported difficulty paying typical expenses in recent weeks, compared to 50% a year prior.
Rising inflation is also likely to hit lower-income households harder than other households. For example, Wescott noted that households earning less than $50K expect greater increases in food, housing and transportation costs than households with higher income levels.
Digital Banks and Lower Income Households
Lower income households are far less likely to have a bank or credit union account. Such "unbanked" households are less satisfied with their recent bank experience than "banked" households: 55.1% of unbanked households were satisfied compared to 97.3% banked households.
So, why are households unbanked? Wescott cited insufficient balances, lack of trust, fees, and credit problems as the main reasons for being unbanked. Figure 1 shows the reasons that households report for being unbanked.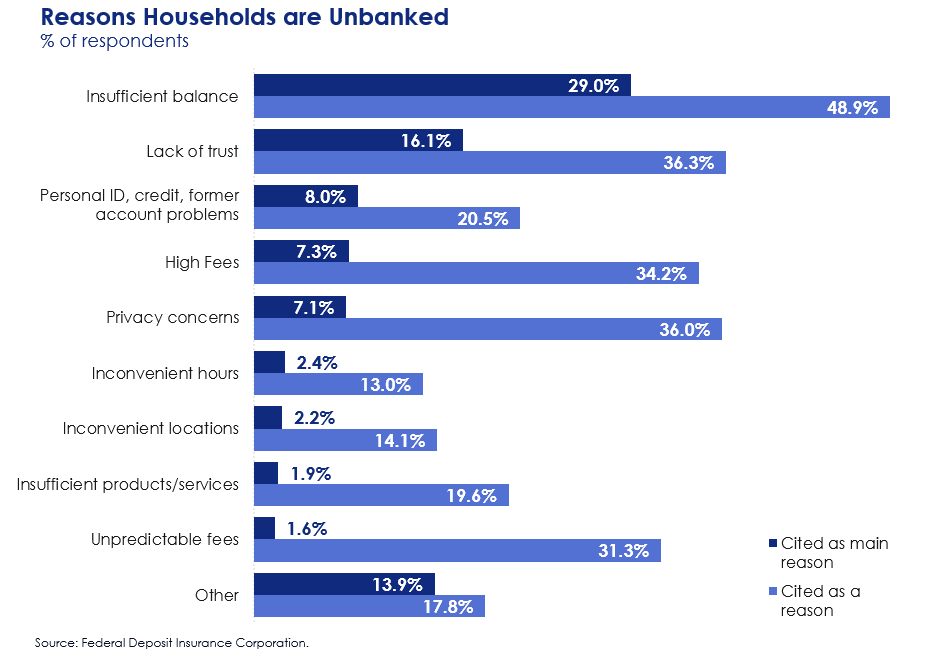 Consumer Credit Trends Update
Below are the top key insights from Tom Aliff, Risk Consulting Leader at Equifax's portion of the presentation including the following about credit trends.
Mortgage debt has continued to grow and rise - with new mortgages in January 2022 moving strong from a market standpoint.
Non-mortgage debt for 2022 is declining again with respect to the paydowns we see in January, February and March 2022.
Non-revolving debt has had a slight decline - seasonal paydown.
Credit limit and utilization has slowly increased for bankcard and private label card, while home equity continues to decrease.
Mortgage delinquency remains at historic lows
Subprime delinquency highest ever for auto
For more insights on consumer credit trends and small business trends you can download our Market Pulse deck here or watch our recording of our webinar here.

* The opinions, estimates and forecasts presented herein are for general information use only. This material is based upon information that we consider to be reliable, but we do not represent that it is accurate or complete. No person should consider distribution of this material as making any representation or warranty with respect to such material and should not rely upon it as such. Equifax does not assume any liability for any loss that may result from the reliance by any person upon any such information or opinions. Such information and opinions are subject to change without notice. The opinions, estimates, forecasts, and other views published herein represent the views of the presenters as of the date indicated and do not necessarily represent the views of Equifax or its management.