Data and Analytics
What is the Data Science Lab?
What is the Data Science Lab?
The Data Science Lab is the heart of innovation at Equifax. In this interview, Chris Yasko, Interim Enterprise Innovation Officer , pulls back the curtain.
What does the Data Science Lab do?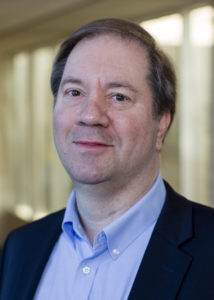 The Data Science Lab invents the future for Equifax. We work on the really hard problems that the company can take to market over the next two to three years. The Data Science Lab was founded in 2015 and is a long-term investment by the company. The lab is chartered to "pioneer disruptive solutions that drive profitable customer insights."
What has the lab accomplished?
The Data Science Lab delivers artificial intelligence (AI) and machine learning (ML) "components" that improve existing Equifax products, or could launch entirely new solutions. These AI/ML components span many diverse topics, including: Explainable AI, Unstructured Data, Natural Language Processing, Production Deployment and Regulatory Compliance.
What products/services has the lab developed?
Our most visible accomplishment so far is inventing NeuroDecision® Technology.
We believe NeuroDecision Technology received the first Explainable AI (xAI) patent in the world using transparent AI/ML neural networks to meet regulatory compliance. We have extended xAI to gradient boosted machines and random forests for various use cases. On other customer requested projects, we have applied AI Expert Learning to big data ingestion to improve automotive lost sales analysis, commercial marketing data and geographic classification.
What does the Data Science Lab hope to accomplish in the near future?
The lab is extending our foundation from explainable Predictive Analytics (xAI) into explainable Prescriptive Analytics (RxAI). We are focusing energy on time series events, optimal path sequencing, and optimizing cloud infrastructure for adaptive AI.
What do you do at the lab?
I have the best job in Equifax since I get to lead the Data Science Lab team. My job is many different roles all at the same time: coach, mentor, evangelist, servant, sheriff and inventor.
What is your background?
I have been working in R&D engineering teams for over three decades, both as a "entrepreneur" with start-up companies and as "intrapreneur" for large corporate labs. I really enjoy building high performance teams that want to invent something that's never been done before. I've developed early 3G/4G mobile phones (LTE), wireless communications (WiFi, Bluetooth, GPS), automotive telematics (IoT), cyber security appliances (FIPS-140), multi-core semiconductors (DSP, CPU), and electric vehicle charging stations (smart grid).
What inspires you about your work at the lab?
I really like structured chaos. We are a strict Agile Scrum shop with two-week Sprints. We engage with key customers, universities and industry leaders to create novel solutions that can be applied across numerous applications.
We are given freedom to explore.
Who works in the the Data Science Lab (scientists, statisticians, etc.)
The core group is about a dozen full time data scientists and data engineers, most with doctorate degrees, along with various PhD students from leading universities. We all seem to come from outside of financial services industry, with different backgrounds in signal processing, theoretical mathematics, computer engineering, political science, and biometrics. One recent hire is a rocket scientist.
What makes the lab unique to Equifax?
We are allowed to investigate our own ideas, challenge the status quo and even allowed to fail. Most of our big ideas come from informal conversations rather than sticky note brainstorming sessions. Our diverse career backgrounds allow us to set aside traditional financial services thinking and look for totally new ways to solve an old problem.
How does your work at the lab help consumers live better financial lives?
We focus much of our energy on building new AI/ML components that can assist populations gain access to their first financial product.
We are actively working on innovative solutions that will help credit invisibles, immigrants, students and first-time loan applicants reach their financial goals.