Recession Readiness Insights
New Survey: Dealers still have gaps in fraud prevention and digital retailing technologies
New Survey: Dealers still have gaps in fraud prevention and digital retailing technologies
The automotive industry has faced many challenges this year. Automotive dealers have fought inventory shortages, rising interest rates and inflation. They now face new challenges with the end of the year a few short months away as they continue to struggle with:
Attracting and qualifying potential customers online.
Creating a valuable digital experience for consumers.
Understanding and applying data from new industry specific technology.
At the same time, they are wary of the issue of fraud, and fraudulent activity. Fraud can wreak havoc on profit levels and bottom lines. Dealers need to be proactive and innovative when it comes to digital retailing and fraud. This will help mitigate the impacts of the current economic environment.
How are dealers dealing with fraud?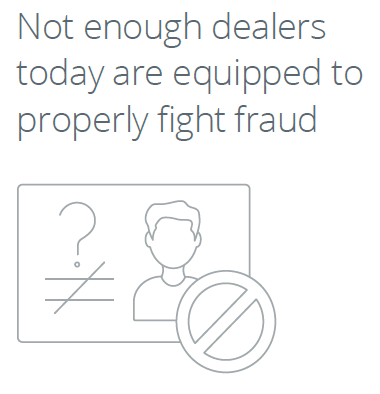 According to a recent survey, fraud had the largest impact on the automotive industry. Automotive dealers continue to cite fraud as their biggest concern. Yet less than half have invested in technology to help them fight fraud.
According to a recent industry survey:
10-20% experienced an increase in fraud cases between 2020 and 2021.
51% saw a rise in false identification.
23% concerned with fake pay stubs and overstated income.
41% said increases in fraudulent activity are their biggest concern.
Why the increase?
Fraudsters are experts at tricking everyday consumers into sharing sensitive information. Also, their tactics have become more sophisticated. They gain data by scrolling social media, marketplaces, and different web forums. They use this data to create spam and scam attacks. The attacks allow them to gain even more information, resulting in identity theft. Then the fraudster either sells the data or uses it themselves to acquire goods and services illegally.
Fraudsters are getting more and more sophisticated with their tactics. Fraudsters create spam and scam attacks. These attacks trick everyday consumers into sharing sensitive information. This information is then later sold or used to acquire goods and services illegitimately.
Dealers still not on the same page for digital retailing integrations
While fraud is a top concern for dealers, embracing e-commerce is a slow process. Around 40% have not invested in upgrading their technology since the pandemic started.
The reasons for this lack of investment vary and include:
40% say they still aren't comfortable with the technology.
31% say they lack the resources.
29% say they are happy with the digital business they have.
The data shows dealers that have invested in upgrades are seeing more opportunity. Of those that invested:
53% believe it has had a positive effect.*
30% say they want to grow their digital presence and marketing.*
Why aren't more dealers leveraging pre-qualification tools?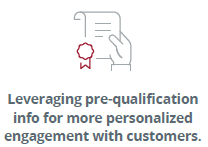 A part of increasing ecommerce business is providing personalized offers to consumers. Pre-qualification data can help dealers deliver these customized offers. Currently, 40% of dealers are not using pre-qualification tools. However, 32% say they do have plans to build this into their workflows in 2022*. These results show a sizable amount of dealers aren't currently leveraging pre-qualification effectively, but plan to in the future. But, nearly half (48%) of those that use pre-qualification said they use them to increase showroom traffic.* A further 35% said they were using pre-qualification tools to build personalized offers.*
Why the disconnect between dealers? Adapting to changes proves an impactful factor. The findings show among dealers not using prequalification, more than a third (38%)* said they have not found the right tech tool's. 30%* are still using legacy practices during the application process. Both of these behaviors are barriers to success. These dealers are also less likely to use pre-qualification effectively.

Fraudulent threats decrease as dealers:
adopt tools and resources
leverage advanced data and analytics
build more comprehensive digital retailing platforms that personalize the overall experience for shoppers.
For more information, please visit here.


*internal Equifax data