Credit Risk
Let the Data Tell the Story
Let the Data Tell the Story
May 19, 2020 | Prasanna Dhoré
The Numbers Spark More Questions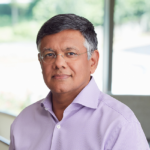 I'm Prasanna Dhoré, Chief Data & Analytics Officer at Equifax. Like you, I've been spending a considerable amount of time thinking about the global pandemic and its impact on our lives. Never in our lifetimes have we experienced an event quite like this. It's unique in nature and rapidly evolving.
For example:
In a recent four-week stretch, over 21.9mm unemployment claims were filed by Americans. In comparison, the maximum four-week stretch for unemployment during the Great Recession was only 2.6mm -- In total over 33mm Americans have filed for unemployment.
But despite the economic downturn, between the CARES Act and accommodations from creditors, we discovered 30+ day delinquency rates steadily declined in April. Additionally, bankcard utilization declined over 8% in the last two months versus a 16% increase in 2010.
When I see numbers like this, I find myself asking more questions. I want to study the data and understand how people are reacting. I want to know how businesses and lenders are responding. Put simply, I want to know what we're facing. Like the ocean, even when it appears calm, to safely navigate you must look below the surface, identifying the currents and swirls in order to stay on course. Here in the Equifax Data & Analytics Lab, that's exactly what we're doing. We're asking questions, conducting tests, analyzing the data and running simulations. We're looking below the surface, trying to understand what the data is telling us.
Data-Driven Insights Help Us Navigate the Economy
I'm passionate about communicating relevant and timely information in rapidly changing times. Here in this blog, we will share our findings. Data-driven insights will provide us with the intelligence to navigate the pandemic and the confidence to make smart decisions. Why? So we can help consumers and businesses prosper. That's what this blog is all about. Over the next few weeks, I'm planning to cover a range of critical topics like:
Assessing the impact of forbearance on score and attribute performance
Forecasting future delinquency rates by credit score bands
Studying consumer payment behavior and patterns for consumers with forbearance, consumers who lost jobs and consumers with pay decreases
Running simulations based on varying rates of forbearance, unemployment and different economic scenarios
Analyzing and identifying optimal data sources and attributes beyond the credit file to help consumers get access to credit ... and much more
Impact on the Equifax Credit Risk Score
Before closing, I'd like to share a few insights on accommodations and how we see them impacting some credit scores. Specifically the team has been running a series of simulations to understand the impact on Equifax Risk Score (ERS 3.0), a proprietary credit risk score. The CARES Act accommodation provisions were intended to benefit consumers, and based upon our findings, this is proving to be true. Recent Equifax Risk Score simulations have shown the majority of those scores remain unchanged, in fact some consumers may experience increases rather than decreases. In addition to examining score distributions, we're also analyzing the impact of accommodation on the predictive power of scores. For the U.S. population as a whole, we're finding a typical risk score like ERS, even in the most extreme circumstances like 50% accommodation on trades, loses only 1% of its predictive power.
Helping Marginalized Members of the Economy
But here's where it gets interesting. As you know, no one underwrites a loan on the behaviors of the general population; specifics matter. As I said earlier, on the surface the ocean may appear calm, but it's important to look below and identify the swirls and currents.
For instance, let's focus on subprime consumers. As we dive deeper into this segment, we're discovering that if accommodation is applied to 50% of subprime consumers, the loss of information negatively impacts the predictive power by almost 30%. If these trends hold, we believe subprime lenders may need to take remediation measures on scores and risk strategies.
ERS Predictive Power - Subprime Consumers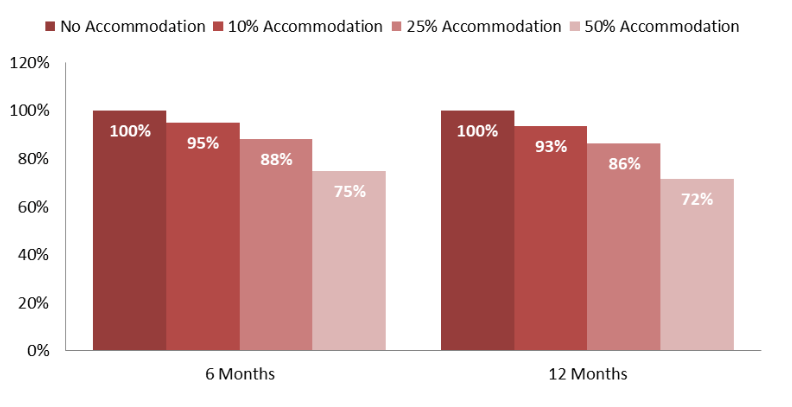 Now more than ever, it's critical that we continue to help marginalized members of the economy like subprime consumers. To that end, we're discovering there are new, better ways to define creditworthy customers within these segments.
Read the other posts in my series:
And if you have any questions, please reach out and let us know what you'd like us to answer next.
Stay healthy and remember... look below the surface and let the data tell the story.