Credit Risk
CECL Preparedness: Overcoming Data Gaps and Inaccuracies
CECL Preparedness: Overcoming Data Gaps and Inaccuracies
December 10, 2018 | Amy Graybill
Current Expected Credit Loss (CECL) will require financial institutions to gather data from various sources. Based on conversations with customers, we know this is one of their biggest concerns. And we understand the challenges of finding the right data -- and making sure it drives accurate forecasts and reserves.
The Challenge with Personal Loans
Over the last few years, consumers are demanding more personal loans, and lenders are making more of them available. The length of loan could vary from six months to ten years. If you're just now introducing these loans, you will have difficulty doing lifetime or length-of-loan forecasting.
Aside from the length of loans, you may not have enough losses to accurately forecast. This is especially true if you're lending to a primarily prime customer base. In addition, you may not have data at a loan level -- just a vintage or cohort level. Lastly, you may not have the right data for a specific geography, which can forecast for specific economic conditions. As a result, these data gaps can under forecast or over forecast your loss reserves.
Sourcing the Necessary Data
The ability to source peer or market-level data can help augment your existing data -- and give you confidence in your forecasting. It will allow you to test the flexibility of different forecasting types, allowing you to choose the method that works best for you. In the diagram below, you can see the different types of portfolios based on credit scores. Specifically, consider how the length of loan (for up to sixty-plus months), along with sampled and sizable loan-level lifetime expected losses, drive loss forecasting accuracy.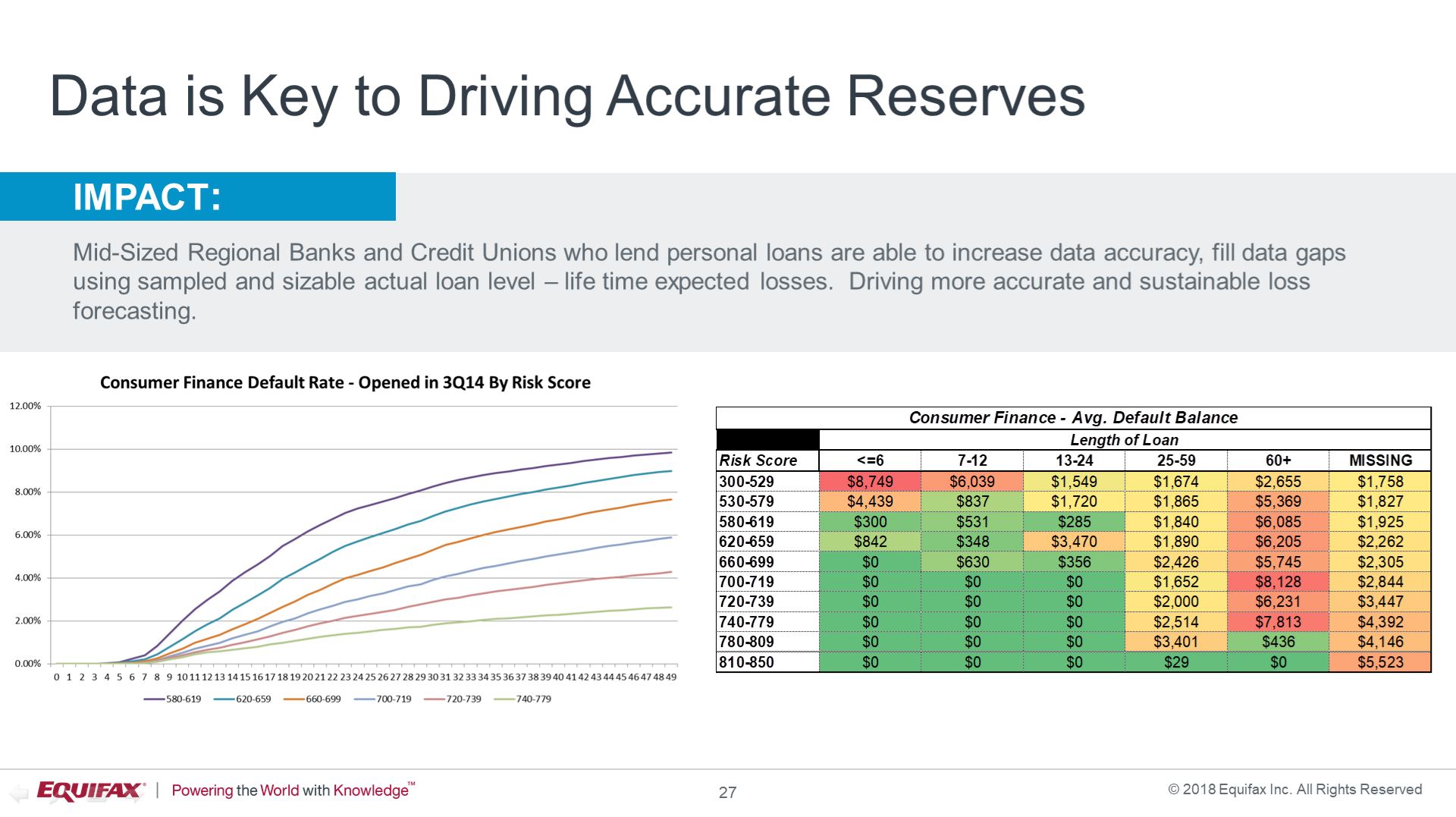 In conclusion, data gaps and inaccurate data lead to inaccurate forecasting. And lenders are finding data gaps and inaccuracies across products, geographies and cohorts. So without the right amount or length of data, building reliable forecast models is a challenge. Peer or market data may augment existing data and increase confidence in your forecasting. As you start for prepare for your CECL implementation, consider how you can overcome data gaps.
To learn more about how we're helping financial institutions prepare for CECL, call your Equifax account representative or contact us today. Additional resources can be found on the Equifax and Moody's Analytics websites.