Overview
Launched in 2021, Equifax Accelerate is a six-month developer program designed to help technology companies of all sizes tap into the Equifax information ecosystem to build transformative, data-driven solutions that promote financial inclusion.

The top applicants have an opportunity to refine their use case and solution with coaching from Equifax experts. Ten finalists will win entry into the Product Studio, a custom accelerator program run by Equifax and 1871.

Why Compete?
Access to Equifax data-powered APIs

1:1 mentorship from Equifax and partners

Chance to enter the Product Studio

Access to proprietary education and programming

Opportunity to win a variety of rewards

Eligibility for promotion through Equifax marketing communications
Open Applications - June 1, 2022
The application window is now open - make sure to submit your ideas!

Close Applications - July 28, 2022
The application window will close. We will then choose the top 50 applicants,
who will have the chance to participate in the Design Sprint.
Design Sprint Begins - August 8, 2022
The top 50 applicants will prepare to pitch their product ideas.
Pitch Competition - August 30, 2022
20 participants will be selected to pitch their proposal to the judging panel,
and 10 will be chosen to join the Product Studio.
Product Studio Begins - September 12, 2022
The 10 finalists will receive mentorship and resources from 1871 and Equifax.
They will have access to Equifax's API tool to support them as they build their product.
Product Showcase - November 17, 2022
The program will culminate in a final showcase, where the 10 finalists will
demonstrate their products to leaders from Equifax along with clients and
partners in digital and fintech spaces.
Partnership
Our Partner
Equifax Accelerate is produced in partnership with 1871, a Chicago-based technology hub that supports early-stage tech startups, growth-stage tech leaders, and corporate innovators building extraordinary businesses.
1871 is the home of nearly 500 early-stage, high-growth digital startups and more than 1,500 members.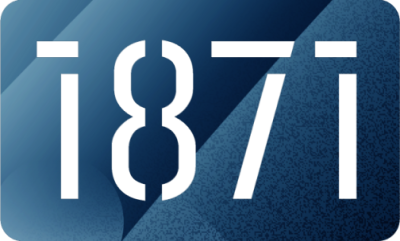 Contest Prizes & Rules
The Prizes
You will have the opportunity to win rewards, including: Equifax API credits, technical and business coaching, inclusion in PR and marketing communications, and brokered introductions with relevant clients and/or investors.
Eligibility Requirements
Your company must be legally registered in the US.
Your company must submit a legally and ethically appropriate use case.
You must have authority to act on behalf of your company.
Begin Your Equifax Accelerate Journey
Submit your product idea.
Contact Us
Need more information about the developer program?