Overview
Differentiated data to expand customer relationships
To grow profitably, you need a 360-degree view of your customers — including their ability to invest, spend, or borrow more. Equifax offers unique insights into the consumer wallet and advanced segmentation analytics. These solutions can help you understand which customers have the most growth potential, and help you plan your marketing efforts. Gain incremental sales and nurture loyalty by deepening engagement with the right customers.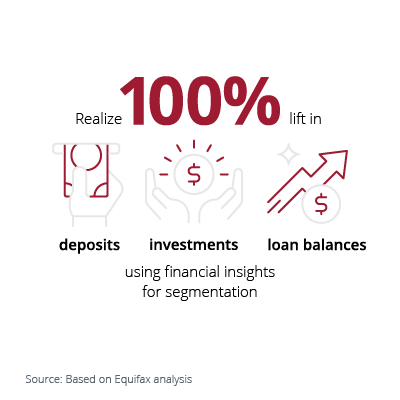 Financial Services
Identify high potential customers to grow share of wallet and deliver next-best offer
Automotive
Segment customers to determine future auto needs and spending capacity
Fintech
Understand consumer financial capacity and credit to assess cross-sell offers
Communications & Utilities
Mitigate churn and maximize profitability with consumer segmentation and insights
Build relationships with the right customers
Segment customers by financial capacity
Optimize cross-sell and up-sell offers
Find hidden opportunity
Deepen engagement & grow share of wallet
Inform treatment groups to build loyalty
Expand lending audience
Identify customers that can spend or invest more
Seize in-market customers seeking credit
Ready to Complete Your Task?
Recommended Products
Need Help deciding?
Connect with our sales team today to get a product consultation.
Deepen engagement
Learn new ways to deepen relationships with your best customers
Drive customer growth
Discover new ways to expand your customer relationships