Overview
Build customer satisfaction and loyalty with relevant action
Customers today have high expectations. Meet and exceed those expectations and you will be more likely to grow their lifetime value. Especially when you deliver the right offer, at the right time, to the right customer, or you provide premium service to high-potential customers.

With Equifax solutions, you can manage and enhance relationships throughout the customer lifecycle. You can help consumers accept your offers faster and further increase the value you provide to them.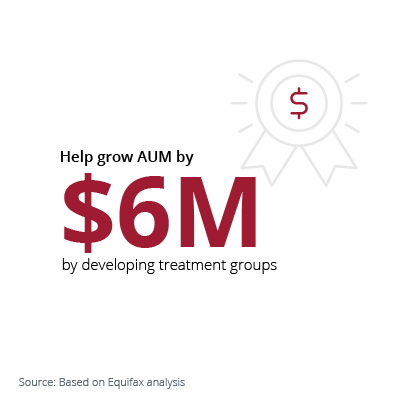 Financial Services
Reach the right customers with relevant offers in preferred channels and provide faster access to credit
Automotive
Use in-market behaviors, financial insights, and auto preferences to inform offers
Communications & Utilities
Assess financial durability & lifetime value to deliver tailored offers, reduce churn
Fintech
Identify, prioritize, target and onboard attractive new customers more easily
Right Customer, Right Message, Right Engagement
Understand your customers better
Anticipate needs to maintain loyalty
Personalize marketing offers
Streamline acquisition and verification
Improve the onboarding experience
Deliver the right treatment
Deliver faster access to credit
Connect with customers across channels
Ready to Complete Your Task?
Recommended Products
Need Help deciding?
Connect with our sales team today to get a product consultation.
Deepen customer relationships
Learn 5 ways to deepen relationships with your best customers
Deliver an optimal customer experience
Discover new ways to make the most of your customer relationships