Events
Interview: Kathi Mehall Reflects on 42 Years of NADA
Interview: Kathi Mehall Reflects on 42 Years of NADA
February 05, 2019 | Wyatt Jefferies
The Oldsmobile Toronado was one of the most popular cars in America in 1977. It had a T-Top roof design and a powerful engine – quite different than the SUVs and electric-powered vehicles dominating America's highways today. Kathi Mehall, vice president of technology for Equifax Automotive Services, was at the National Automobile Dealers Association (NADA) show that year -- and has witnessed the evolution of the auto industry ever since. In fact, she just attended her 42nd NADA conference in San Francisco where I had the pleasure of catching up with her. We discussed everything, from how the industry has evolved to the role she would like women to play in this space. Here's a transcription of that conversation.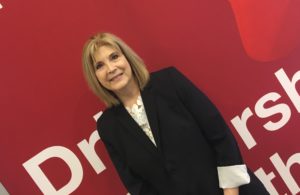 Question: In comparison to the first NADA you attended 42 years ago, what has been the biggest change you've seen in the industry?
The biggest change is the focus on technology. Forty-two years ago, we were discussing automating automotive systems for accounting, payroll, parts and service. Now those systems are mature, and we have moved to talking about how to help reduce fraud, improve marketing systems, including attribution on sales, and how to increase profits. While it's very different from a technology perspective, it's also the same in that we're driving dealer revenues, engaging the consumer, and improving efficiencies and margins. And Equifax is highlighting our unique and differentiated data and what we can do to help across the entire auto ecosystem to enable innovative systems and services.
Question: What's driving these changes?
Technology innovation itself is driving many changes, as well as the changes in people's lifestyles. Forty years ago, vehicles were viewed differently than they were just 10 years ago. There was a time when "muscle cars" were cool, and while those vehicles still exist, the trend toward more efficient vehicles or SUVs for family use reflect both lifestyle and industry changes. Some want a vehicle only when they need it. Millennials and Gen X, for example, are driving a completely different look for the industry. Urban dwellers and the desire to focus on the environment are changing the way people use petroleum products. The focus on green wasn't a consideration 40 years ago, gas was inexpensive and the environmental impacts were not as top of mind. Alternative fuels were rarely discussed, but we've become more educated. We are all more interested in becoming efficient, and in turn, are putting pressure on the industry to innovate.
Question: Where do you see the industry going in the next 10 years or so?
It's a slow evolution. Electric is big now, and we'll likely see more of it. The infrastructure to support alternative vehicles needs to mature. However, these cars aren't always easy options for people who drive far or for people with large families – the alternative options available don't always meet the consumers' needs. The constantly evolving auto industry will find new ways to get from point A to point B. People don't wait for taxis like they once did. They're looking at their smartphones for a ride-share service vehicle that is often right around the corner. This evolution has been more of a revolution. The payment transactions are simpler, and more limitations are being removed. Even dinner has gotten easier; you no longer have to get just pizza delivered. You can order whatever you want, and the driver can deliver it between runs to the airport! Analytics and alternative data are emerging as must haves in all areas to compete for consumers' business. Providing the offer that is personalized to each consumer at the right time in the right place by leveraging differentiated data, will be key to winning business. This is the type of data that is the lifeblood of Equifax and will continue to be the focus. The auto ecosystem is demanding these innovations with the goal to help make life easier for everyone.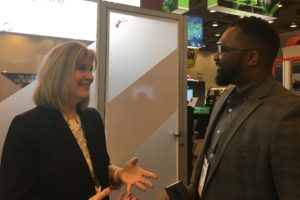 Question: How have you seen the role of women shift in the auto industry?
The good news is that I'm seeing women rise into higher ranks than ever before. I'd like to see more women get involved in this industry. The broader issue has been getting women enrolled in STEM (science, technology, engineering and mathematics) fields. However, it's encouraging to see many organizations provide college scholarships and work with high school girls to get them interested. I'm anxious for more women to realize they can have an excellent career and future here in the auto industry. The CEO of General Motors is a wonderful example of that as well. Mentoring women and minorities is important in general. For women especially, they generally need to be encouraged and given support to return to the marketplace after they start a family. Women bring essential viewpoints and ideas to the industry.
Question: What do you love most about this industry?
The opportunities. There are so many areas to get involved in – from manufacturing to engineering to marketing. The auto industry drives jobs in so many areas. You're not limited. Whatever discipline you're interested in, there's something for you in automotive.
Question: How do you unwind?
I enjoy spending time with my family. I am a wife and a stepmother, an aunt and a friend. I love to take road trips, and look at beautiful landscapes while streaming 80's rock. I'm also an avid reader who loves historical fiction – it's fun to see how things were in the past.
Question: What do you drive?
Mercedes ML 350, and my husband has a Buick SUV. Both have all of the creature comforts, loaded with luxury and functionality.