Credit Risk
3 Innovative Ways to Expand Credit Access
3 Innovative Ways to Expand Credit Access
Customer experience and customer growth go hand-in-hand. One way to improve your customer experience is to make better credit offers to more people. Here are three ways to help open the door to millions of Americans — who have little to no traditional credit history.
1) Know the Consumer Landscape
The consumer landscape is very diverse. There are about 253 million adult consumers. Most of them have "thick" traditional credit files, meaning they have at least five credit lines. This makes it relatively easy for lenders to predict their credit risk. Therefore, these consumers tend to get the best credit terms, higher limits, lower rates and are most likely to get approved.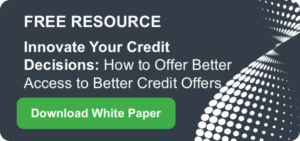 Then, there are about 66 million consumers who have "thin" credit files. These consumers have limited traditional credit data, so lenders typically make them sub-prime offers with high rates and low limits. Oftentimes, lenders outright reject these consumers. Finally, there are 25 million people who are known as "credit invisibles." They don't have traditional credit for various reasons, and lenders rarely grant them credit. Believe it or not, there are ways to offer all of these consumers a better experience, while you expand your customer base – and bottom line. This leads us to our second point.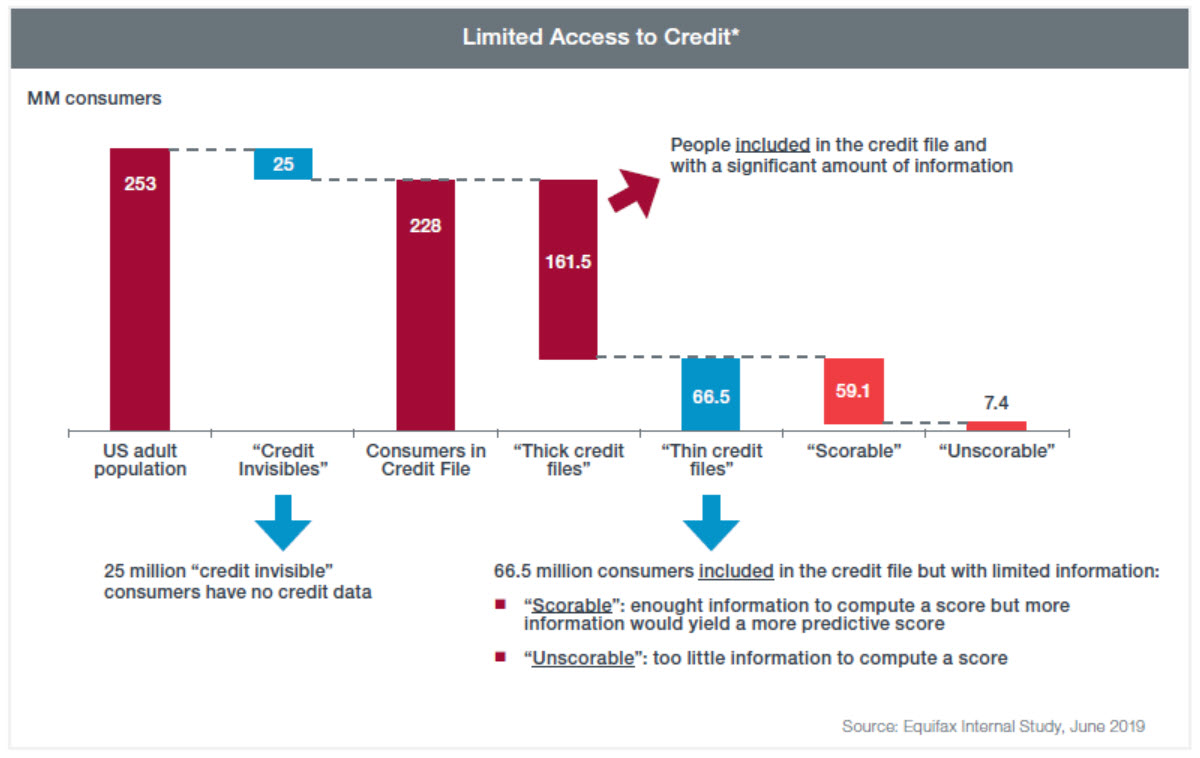 2) Explore New Data Sources, Techniques and Approaches
There are new data sources, technologies and modeling techniques that can provide a deeper understanding of prospects and customers. Additionally, they're more accurate and can lead to better credit offers. These new sources include:
Alternative Data. This is information you won't find in a traditional credit report, but it can be a powerful tool to better understand an individual's payment behaviors, credit capacity and future credit trajectory. Examples include telecommunications, pay TV and utility data that show how people pay their "everyday bills"; employment and income data that can show how long a person has worked for an employer, demonstrating employment stability; and alternative lending data from short-term unsecured lenders (such as payday lenders and cash advancers) can show if a person is making payments on time.
Explainable AI. Equifax's patented explainable AI modeling technique, NeuroDecision® Technology, can provide more predictive results than traditional logistic regression in most cases. Additionally, it meets regulatory requirements because it generates the key reasons as to why a consumer is declined – so the consumer can take appropriate action to improve his or her credit score.
Build Better Models. Equifax Ignite is a dynamic data and analytics platform that offers a "plug and play" approach for building models on an entire data population, as opposed to a sample set that data scientists have historically used. Ultimately, data and analytics teams are able to test hundreds of model design configurations to more quickly build a model that is optimized for your specific use case.
Deploy Models Faster. Building and deploying models has always been a time-consuming and complex process. But today, automated deployment solutions use critical shortcuts that can help you get to market up to six months faster.
Constantly Update Models with New Information. Markets and consumer behavior are constantly in flux. But it's possible to keep models optimized by updating them via a direct feedback loop. As a result, model performance remains strong over time, as opposed to traditional models that deteriorate.
3) Make it Happen
Now it's time to adopt some of these innovations to offer better credit to more customers. Read our whitepaper, Innovate Your Credit Decisions, for specific use cases from real Equifax customers. As you'll see, they yield some pretty impressive results.