Credit Risk
Forrester Study: 2 Trends Changing Consumer Banking
Forrester Study: 2 Trends Changing Consumer Banking
Today's consumers have many choices. Go to the grocery store or have meals delivered? Cable, satellite or streaming service? Drive your car or use a ride-booking service? This plethora of options is changing how consumers bank too.
Consumers Don't Bank Like They Used To
In the past, people chose a bank for the convenience of a corner branch or a family member's relationship with a credit union. But in today's digital world, the choice comes down to which banking providers are available online 24/7, or have products and services at competitive rates, or possibly offer customized images on credit cards. They may use one bank for making salary deposits and paying household expenses, another provider for financing an auto loan, and another for making IRA deposits.
In fact, 55% of consumers have relationships with two or more financial service providers, and they are using an average of 1.8 products or services per banking provider.[i]
This new norm may feel routine to the average consumer who's used to multi-tasking. However, it's a dramatic change for banks. They're struggling with the reality of having to optimize existing relationships and build on them.
Consumers Want Utility and Flexibility
Exactly what are bank consumers looking for? A recent Forrester Consulting survey commissioned by Equifax indicates that:
Consumers are looking for utility. Most consumers simply want to achieve a specific task (i.e., secure an auto loan), and they are looking for the best deal. They will engage with different providers in order to get the best deal. On the other hand, they will choose more than one service from a single brand if they believe it will simplify their finances and streamline their routines.
Customers don't want a "one bank" relationship. Nearly 40% of consumers say they feel more secure not having all their money in one place. Alternatively, when asked who they'd prefer to manage their money, 42% said they'd like to have one primary relationship with a single firm—while also using other banks. Consumers are most interested in shopping around for the best rates and offer on extras, such as debt consolidation, loan refinancing, etc. [ii]
Your New Goal: Be Their Favorite Bank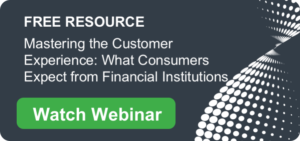 How important is it for bank executives to address these preferences strategically? Nine out of ten banks indicated some level of concern about customers using multiple providers, while 40% indicated high levels of concern. Sustaining growth means accepting this new world, and engaging customers through technology in ways that are more creative and methodical. Watch our on-demand webinar to learn more about consumer trends -- and how financial institution leaders should respond. You may also like our related article, Q&A: How Financial Institutions Can Leverage Customer Data.
[i] How to become your customers' favorite bank (even if you can't be their only one.) A Forrester Consulting Through Leadership Paper Commissioned by Equifax. January 2019.
[ii] Ibid.