Data Driven Marketing
The Conference Board: Big Opportunities for Brands to Innovate
The Conference Board: Big Opportunities for Brands to Innovate
The pandemic has completely transformed consumer behavior. It has ushered in a digital-everything, stay-at-home economy, where consumers largely interact with brands online, according to research from The Conference Board, a nonprofit research firm. Older consumers — the highest-risk group for the virus — have cut back on spending altogether. This demographic spends more on travel, dining and home remodeling than younger consumers. The Conference Board reports their reduced consumption may partly account for job losses that are close to 30% in some of these industries.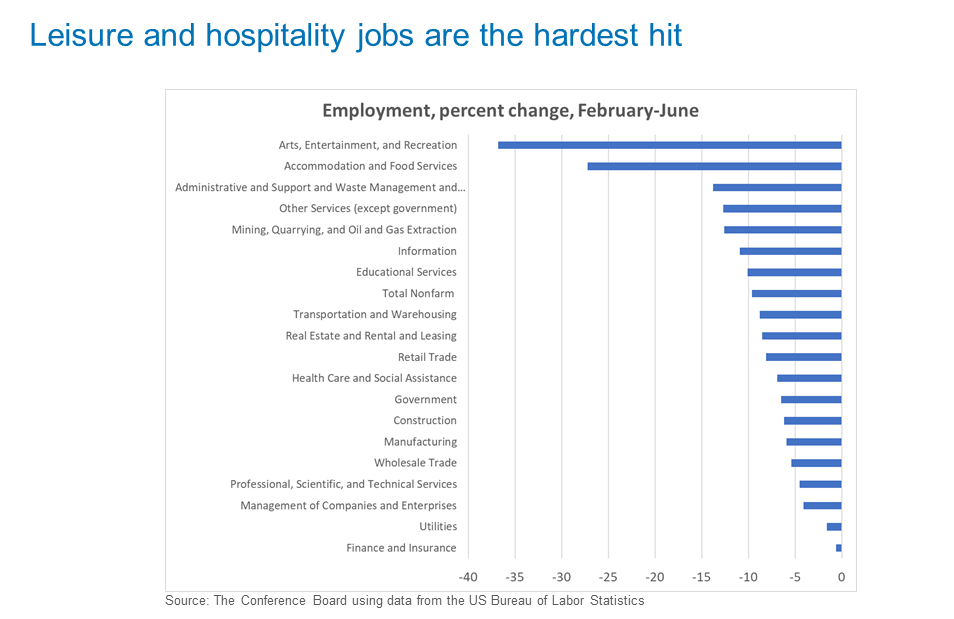 Additionally, with high unemployment and economic uncertainty, some consumers have shifted from values-based shopping to more cost-conscious purchases. "The financial crisis will create or intensify people's value orientation," said Denise Dahlhoff, senior consumer researcher for The Conference Board. "They will be really watching their money and what they spend on." In the current economy, businesses are left wondering: Are these changes in consumer behavior short term or long term? And what impact will these shifts have on our marketing strategies and investments? In our recent webinar, Market Pulse: Consumer Confidence and the Journey Toward Recovery, Dahlhoff and Gad Levanon, vice president of labor markets for The Conference Board, shared insights on how brands need to adapt.
Stay-at-Home Economy Impacts Marketers Long Term
Several shifts in consumer behavior may have a long-term impact on how marketers convert customer interactions into sales.
Shifting financial realities
With high unemployment and more financial strains on households, consumers are more focused on affordability. This makes them less willing to pay a premium for sustainable, eco-friendly products. A McKinsey study found that 31% of U.S. households are shifting to less expensive products to save money. "What does this all mean for companies?" Dahlhoff asked. "Big challenges, obviously, but also big opportunities for companies to innovate. And to come up with solutions where people don't have this conflict, where they get the best of both worlds." This innovation could take many forms, like a consumer packaged goods brand launching a subscription service for eco-friendly cleaning products. Brands also could innovate by offering larger package sizes to allow consumers to minimize trips to the store.
Boost in suburban spending
The Conference Board also noted that suburban spending is getting a boost thanks to the stay-at-home economy. During the pandemic, spending on retail, restaurants, real estate and entertainment has shifted away from city centers to suburban areas. This is largely due to more people teleworking. Some have even relocated from city centers to the suburbs for more space and flexibility. Both realities will have an impact on in-person shopping and brick-and-mortar retail in city centers. They also could lead to increased prices and development in suburban areas.
Lower consumer confidence
Consumer confidence has declined during the pandemic, especially as states have had to reclose businesses because of case surges. The Conference Board finds consumers are more willing to do low-risk activities like visiting a local clothing store in the next six months than they are to do what is perceived as high-risk activities like taking a cruise.
"Even industries that are not directly impacted by social distancing are likely to suffer a lot because this is a recession," Levanon said. "Both businesses and consumers spend less and that impacts a broad range of industries." Consumers think the current situation is dire. However, they do expect conditions to improve, which can lead to new opportunities for marketers, according to The Conference Board.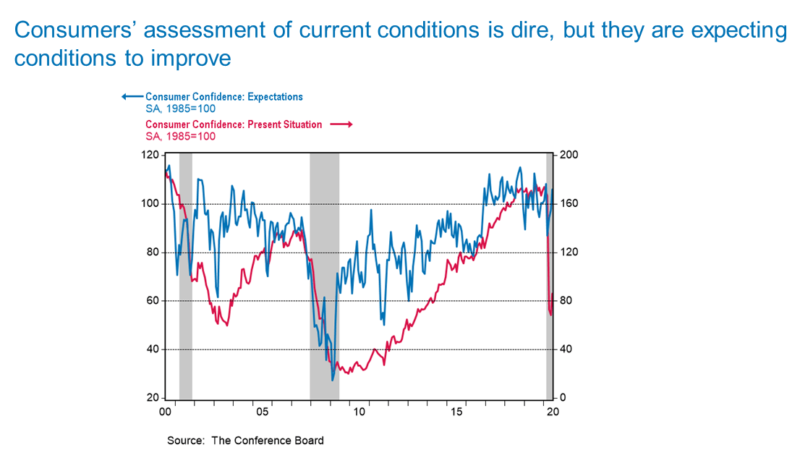 4 Takeaways for Marketing to the Stay-at-Home Economy
When consumer confidence returns, marketers will need to be ready. Here are four ways to prepare:
1. Embrace a hybrid customer experience strategy
COVID-19 has accelerated digital transformation in many industries, according to the research firm Gartner. Companies need a hybrid strategy that allows consumers to interact with their brand in whatever way they choose — whether online or offline. Some of these options could include contactless delivery and payment methods, like digital wallets and contactless ATM withdrawal. Other options include curbside pick-up and performing services outdoors (i.e. al fresco dining) whenever possible.
2. Ramp up mobile marketing
As more consumers turn to contactless purchasing methods, brands now have an opportunity to reach more people through mobile. Reassess your brand's mobile campaign strategy. If your brand hasn't invested in creating an in-app experience, consider shifting some of your marketing investments to this channel. "Mobile will play a huge role," Dahlhoff said. "We all have a very powerful computer in our back pocket. And this will also be really important and has been in the crisis to protect against the health risks."
3. Get local
More consumers have redirected some spending toward local businesses, which have been severely impacted by the crisis. Larger brands may consider investing some of their marketing dollars on local SEO and social media campaigns. They can also tailor their messages to certain zip codes, neighborhoods or designated marketing areas. Local sponsorships, partnerships with small businesses or initiatives to support these businesses also may be effective at building goodwill. For example, one card brand is giving cardholders $5 back whenever they spend at least $10 at a local business.
4. Reshape your marketing mix
While consumers are shifting their spending to digital, so are brands.
"The immediate reaction when COVID broke out was a seizing up and a turning down of all marketing activities across the board," said Jeff Sporn, Equifax's chief digital officer of data-driven marketing. "Digital advertising — display advertising — is overheated at this point, as people have a significant amount of advertising spend. It's actually raising the cost of media in some cases."
Brands will have to be more strategic about their digital investments going forward. Companies are increasingly competing for media space on popular publishers and platforms. As more consumers stay home and telework, marketers also will need to diversify their media mix to reach them. You may need to shift dollars to advertising on TV and streaming platforms as more people turn to in-home entertainment. Before the pandemic, the average consumer subscribed to four streaming services and watched eight hours of streaming content a day. That number is likely to go up as more people telework and stay home amid safety concerns.
The Future of Customer Relationships
To maintain their relationships with customers, brands need to focus on service, trust and delivering a seamless digital experience. Customers are worried about their health and safety. Brands that embrace a hybrid customer experience strategy and deliver relevant messaging through digital channels will gain consumers' business and their loyalty.