Credit Risk
FICO World 2019: A Recap from NYC
FICO World 2019: A Recap from NYC
The autumn air is crisp, and the delicious smells from the nearby Halal Guys cart are tempting my senses. It's a perfect Monday morning in New York, and stepping inside the Midtown Hilton I realize New York is the perfect location for this week's event. The energy of the city outside is only matched by the vibrancy of what's going on inside.
Arriving at the Hotel… It's all About First Impressions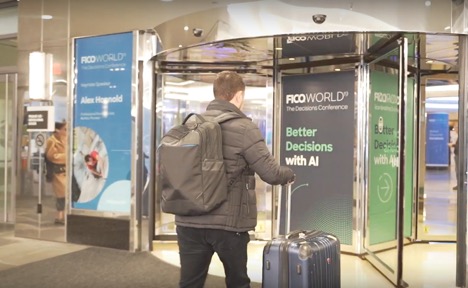 The revolving door of the hotel's main entrance is wrapped with the FICO World logo to remind us of the magnitude of this conference that features five floors of exhibitor space. More than 1,800 people attend this sold-out event. They represent companies from across the financial institution (FI) spectrum, including traditional lenders, fintech, telco, credit unions and more. Walking off the elevator, I hear people speaking Portuguese, Spanish, Arabic, Mandarin, and I'm reminded that 62 countries are represented here.
Day 1: What do Chihuahuas and Blueberry Muffins Have in Common? A Lot!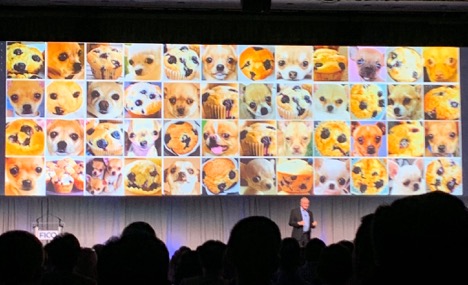 FICO CEO, Will Lansing, takes the main stage to tout the key theme we'll hear all week: how to improve decisioning using innovations in technology like artificial intelligence (AI) and machine learning. AI has come a long way since the Chihuahua and blueberry muffin experiment he references. It used AI to distinguish between photos of the two, and now we get to reap the benefits of this exciting new tech.
Inspiring Keynote: Not Your Typical "Mountain Climbing as a Metaphor for Business Success" Speech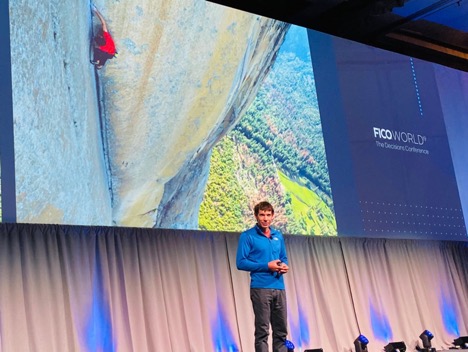 Rock climber, Alex Honnold, takes the stage and for 30 minutes we hang on his every word. His spellbinding tale of free soloing El Capitan is hopeful and stressful at the same time. His pure grit and determination are not, as it turns out, what he believes led to his success. Rather, he tells us it's all about preparation. It's about visualizing the path forward one step at a time. Single-minded purpose, planning and preparation, building flexibility into the plan, having the right team around you, and visualizing success are all critical traits of good leadership and impressive, innovative companies.
Introducing: Data Decisions Cloud
It's halfway through the morning keynotes, and the air is charged with enthusiasm. Will Lansing and Equifax CEO Mark Begor take the stage to discuss how they originally dreamed up their collaboration – the Data Decisions Cloud.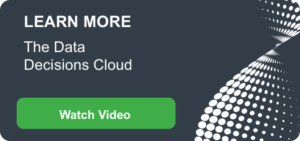 At first, it was all about how to solve for some of the biggest challenges FI's face by bringing the best of both companies together. Now, after launching three offerings with solutions 4, 5 and 6 on the horizon, the Data Decisions Cloud is evolving beyond just mashing up the best of both companies. The Data Decisions Cloud is a true collaboration of two industry giants thinking about the challenges our customers face and creatively solving for them. It is a true end-to-end decisioning platform that will revolutionize the game.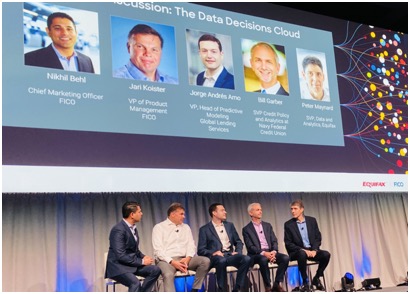 Next, we're treated to a panel discussion diving deeper into the Connected Platform. The panel features Bill Garber, SVP Credit Policy and Analytics at Navy Federal Credit Union, and Jorge Andrés Amo, VP and Head of Predictive Modeling at Global Lending Services. Both customers extol the Connected Platform's benefits that combine Equifax's data and analytics with FICO's decisioning platform in the cloud.
Day 2: General Session Speakers Focus on Consumers
Liz Lasher, VP of Fraud, Security and Compliance Product Marketing at FICO, gives every parent in the room a very scary statistic. She says child identity fraud affects more than one million American children, and costs $2.5 billion per year. She cautioned all of us "Sharanters" (or parents that overshare their children's data on social networks) to be more vigilant and monitor our children's credit activities.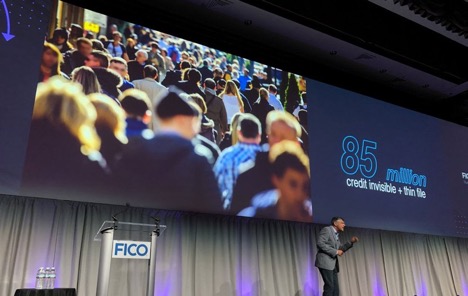 The general session keynotes in the morning end with a very personal and compelling story shared by Prasanna Dhore, Chief Data and Analytics Officer at Equifax, about his journey from credit invisible to credit visible. As a U.S. immigrant, Prasanna endured many obstacles to obtain credit. In fact, his journey took 10 years and some occasional good Samaritans along the way. He challenged the audience, comprised of mostly lenders, to develop ways to help 85 million credit invisibles gain access to credit responsibly by using alternative data sources, AI, and other innovative techniques.
What an Amazing Event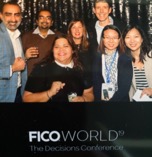 Looking back at the last three days, some common themes emerge. First, our industry is at a tipping point. It's rich with data and technology options – all with the aim of doing more with less. Second, companies have new competitors they must beat with better offers, presented at the right time to the right consumers. Third, the promise of big data is still out there, but most companies haven't figured out how to harness its power yet. And finally, new advances in technology like AI and machine learning are truly revolutionizing the game by helping FI's be more precise and efficient in their decisioning.
Above all, at the heart of every interaction during FICO World, was a strong desire to help improve consumers' financial lives; a promise that can only be realized by keeping consumer needs at the forefront of every new technology innovation. The conference was fun and included great networking "dinearounds." It even featured a concert with lovelytheband and American Authors at a nearby club. So, as I step out of the event hotel one last time to head home, I take a deep breath of that chilly NY air. I am renewed and full of hope for the future of our industry -- and for the focus on putting consumers first.