Baby Boomer Finances are Looking Fine for Communications Promotions: Income Up 15% in Five Years
Baby Boomer Finances are Looking Fine for Communications Promotions: Income Up 15% in Five Years
For communications providers, marketing to consumers that have their finances in-check can help boost long-term ROI. Baby Boomers, born 1946-1964, fit that description fairly well with many Baby Boomer households having high total income, higher than average discretionary spending, and diminishing outstanding credit. Our latest infographic provides a look at how Boomer wallets have changed in the last five years:
Income up 15% to almost $103,000, with average income about 9% higher than that of most U.S. households
Discretionary spending down 3% to about $48,000, but still spend about 2% more than the average household
Outstanding credit down approximately 4% to about $112,000, but still about 7% higher than that of the average household
Average invested assets up about 36%, with Boomer household assets about 24% higher than that of the average U.S. household
With their finances improving overall, Boomers are likely an attractive audience for communications promotions – both to target for new customer offers as well as to upsell premium packages and services. Where can communications marketers find the over 46 million Boomer households across the U.S.? Check out the image below.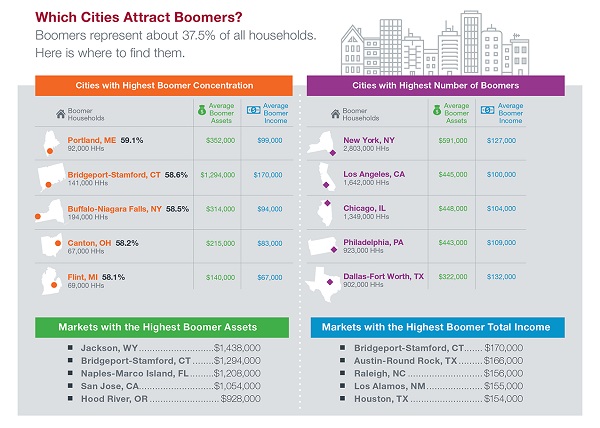 Marketing to Baby Boomers
How can communications providers better market to Boomers? Here are some tips:
Boomers may prefer credit/debit cards that offer airline miles, hotel and car rental awards, and gifts, so tying your promotions to these types of reward incentives may catch their eye
Many Boomers feel that they are culturally connected and prefer to contribute to arts/cultural organizations, so they may be attracted to promotions that mention donations or volunteer hours that your company makes to cultural institutions
Boomers, in general, enjoy foreign travel, are more likely than most consumers to own or lease over four vehicles, and are constantly checking traffic reports so messages that help them to feel connected wherever they are may resonate
Check out the Baby Boomer Wallets are Booming infographic to learn more about Baby Boomer finances and which cities are rapidly gaining Boomers. To gain more insight on your Boomer customers or other audiences, please contact us. The above statistics are sourced from Equifax data using WealthComplete®, CreditStyles® Pro, Income360®, and Discretionary Spending Dollars™. More information on Data-driven Marketing from Equifax.