Credit Risk
6 Positive Trends in the Auto Market
6 Positive Trends in the Auto Market
March 31, 2021 | Craig Sims
While the economy recovers from 2020, there are several trends that demonstrate the automotive industry's resilience. At NADA last month, I shared some key trends with customers that give dealers and lenders some reason for optimism going into 2021.
New Light Vehicle Sales Down, But Beats April Forecast
In the graphic below, you can see annual sales for the last 15 years, including the severe dip during the Great Recession. There were 14.4 million new vehicles sold in 2020, which is a 15% reduction in sales. While this is down a good bit from the previous four or five years, it is not nearly as bad as we've seen in some prior downturns. On the right side of the graphic, you can see monthly sales in 2020. After the big drop in March and April, sales rebounded in the second half of the year -- and exceeded the April forecast of 13.3 million new vehicle sales.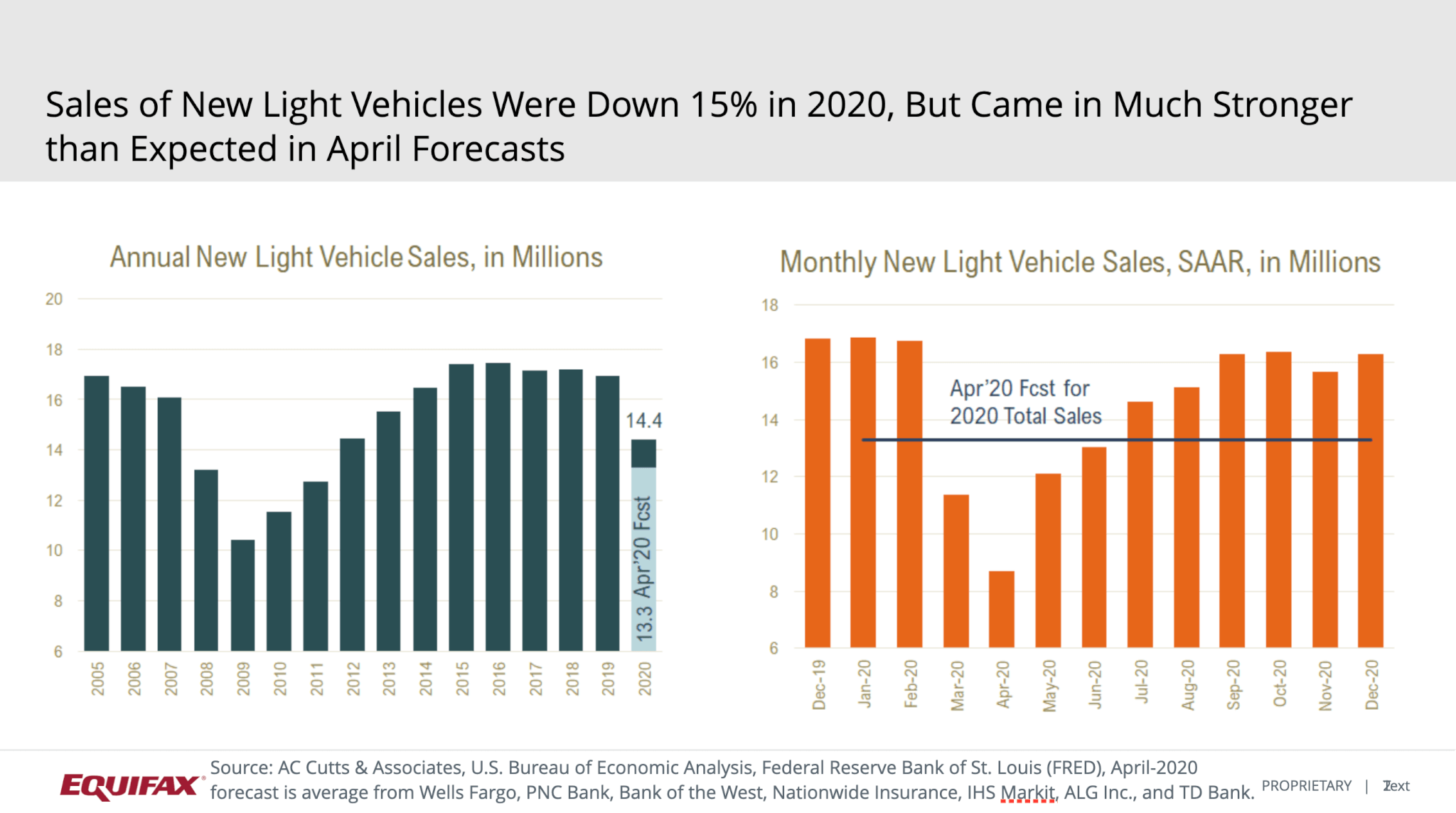 Used Vehicle Sales Finish Strong
Used vehicle sales saw a similar dip in March and April, but they quickly rebounded. In the graphic below, the blue line shows the end of 2020 and beginning of 2021 fairly consistent with the beginning of 2020. While sales didn't make up for the Q2 loss, the strong rebound is encouraging. We ended 2020 and entered 2021 sort of on pace with the beginning of 2020.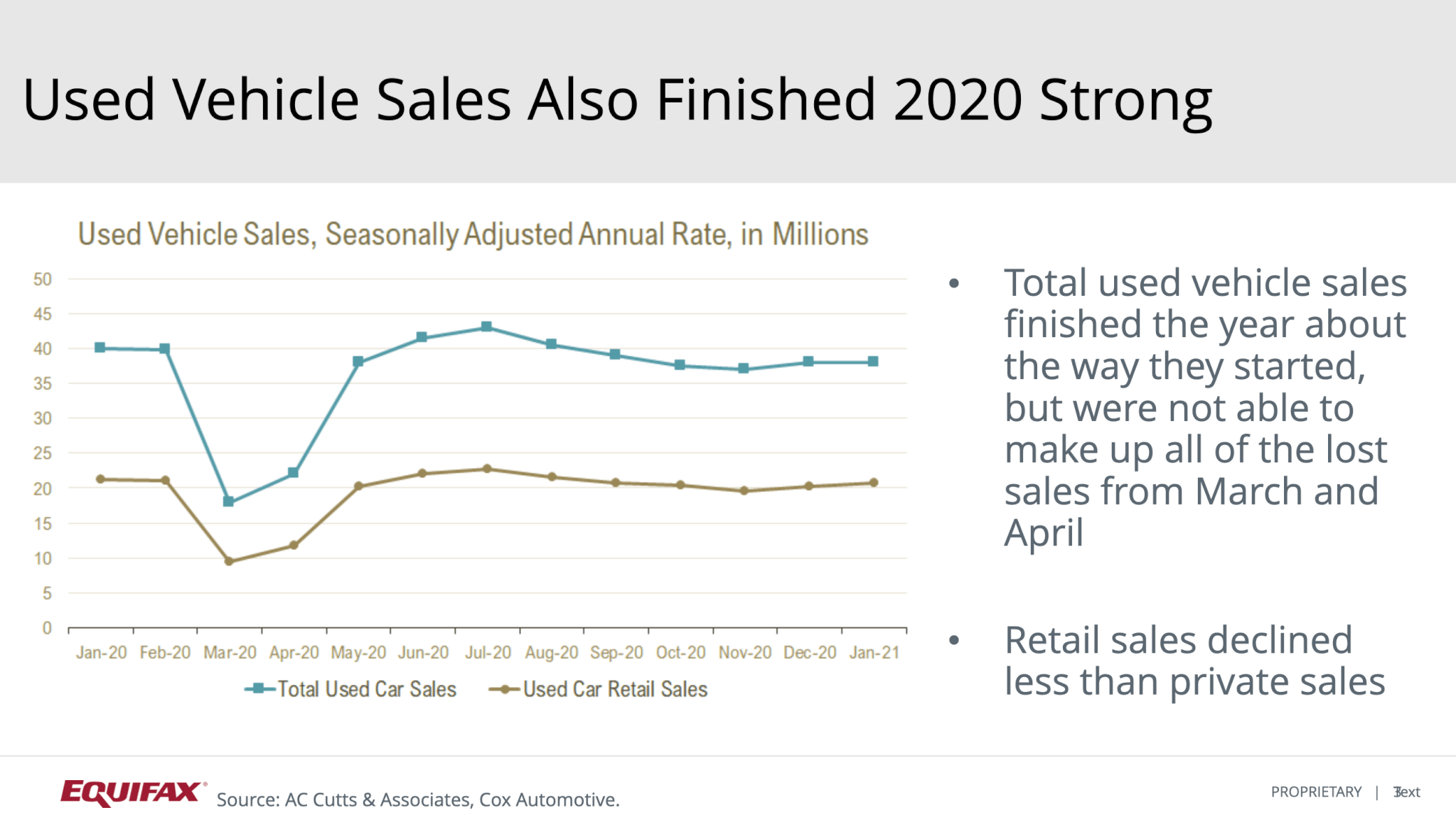 Luxury and Pickups are Driving Used Vehicle Sale Prices
Used vehicle prices rose 8% overall in 2020 from the previous year, according to data from Cox Automotive. It's the biggest gain in used vehicle prices that we've seen really in the last 20 years As illustrated in the slide below, pickups and luxury vehicles led the way. Pickups soared 28.7% while luxury cars rose 16.3%. Compact cars and vans saw the smallest increases at 2% and 4.5%, respectively.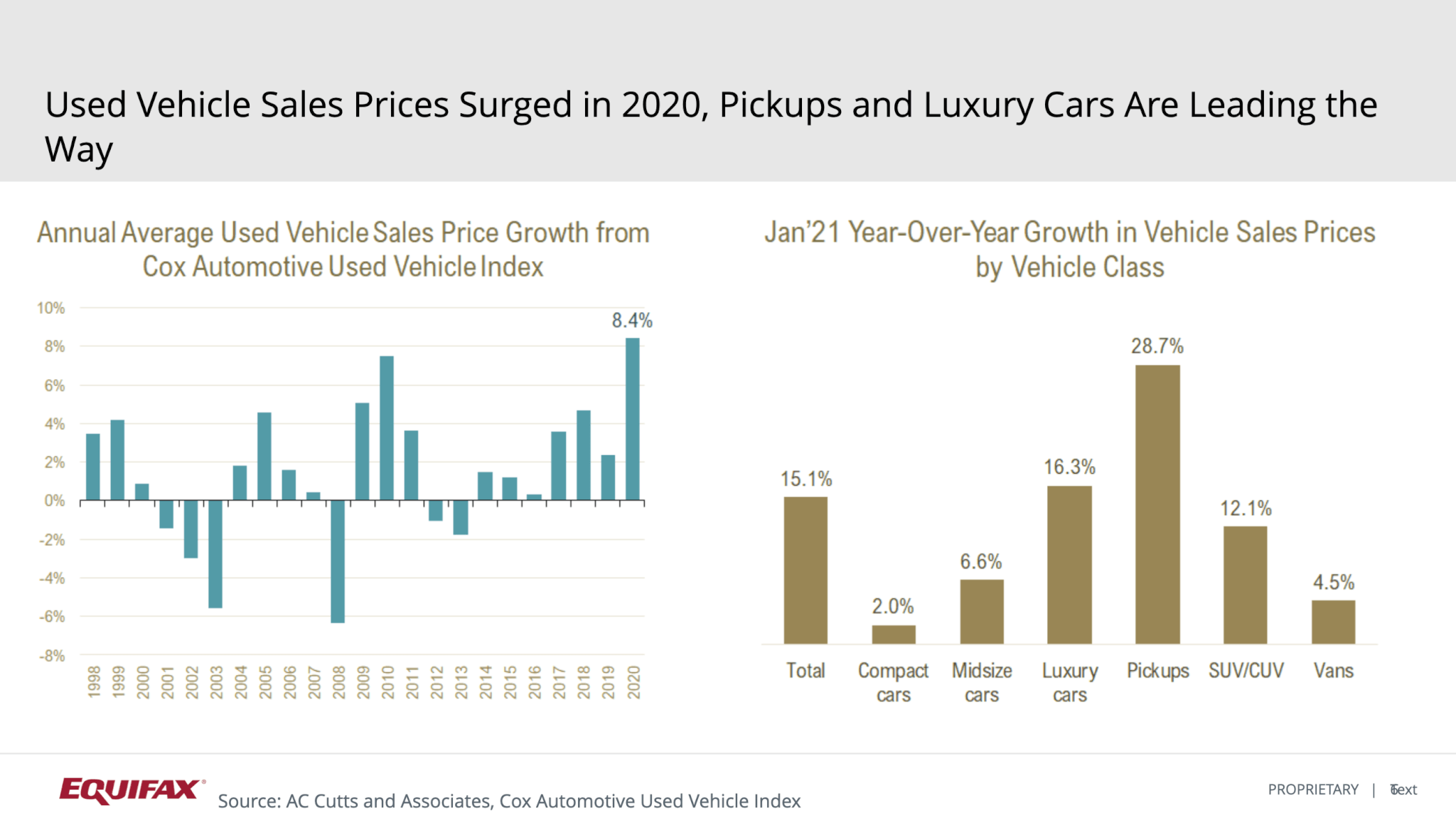 Pricing of New Vehicles Accelerated Upwards
Just as the price of used cars increased in 2020, so did the average sticker price for a new vehicle. In fact, the average price of a new vehicle ended the year just north of $40,000. That's a price point that I don't think a lot of us expected to see quite so soon. It is due to a shift to the prime market and consumer preferences for SUVs, luxury vehicles and pickup trucks. In fact, the share of vehicles priced over $50,000 now exceeds the share of new vehicles under $30,000. This trend is the result of consumers buying luxury, pickup trucks and SUVs -- and fewer small and mid-size cars and minivans.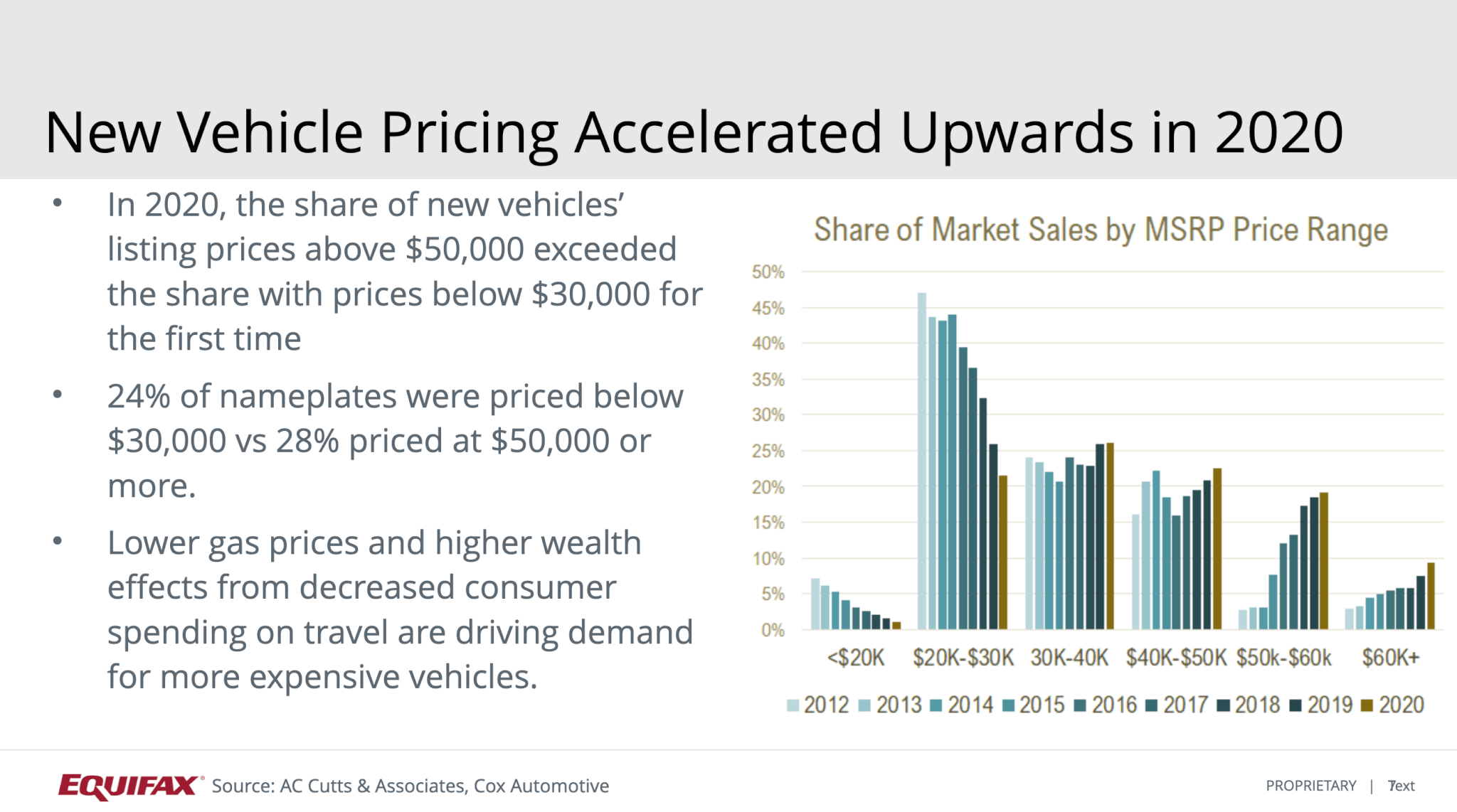 Vehicle Affordability Did Not Change
Lenders and dealers may be wondering what these higher prices mean for consumers. The average price of a new vehicle divided by the median income provides an average metric for affordability. Essentially, this means the average number of weeks of take-home pay required to purchase the vehicle. In the graph below, you can see that number has fallen since December 2012. So even though new vehicle prices have gotten more expensive, there hasn't been a significant change in monthly payments relative to the median income. That's good news for everyone.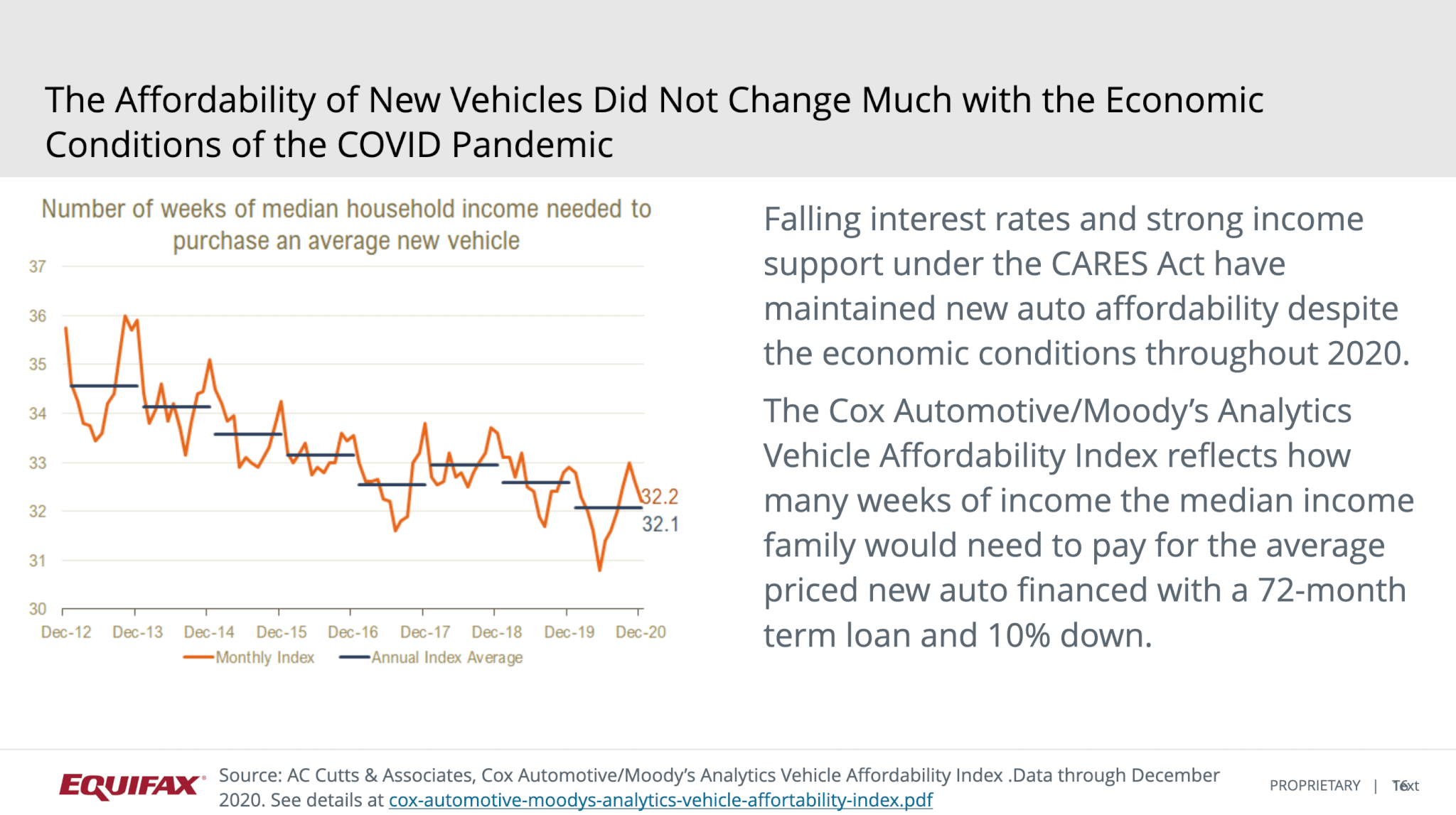 2021-2022 Forecast for New and Used Vehicle Sales
In the graph below, you can see that 2020 ended with 14.5 million in new light vehicle sales. What does the future hold? "The various forecasts that I've seen are all predicting a pretty robust rebound back to the levels we saw in 2019," said Sims. This year is expected to be in the range of $15.5 - 16.3 million in sales, which is about 9-10% growth over 2020. If interest rates remain low, consumer affordability hasn't changed all that much despite some vehicle price increases, portfolio delinquency overall remains low, then I think you have a recipe for a pretty nice recovery in 2021.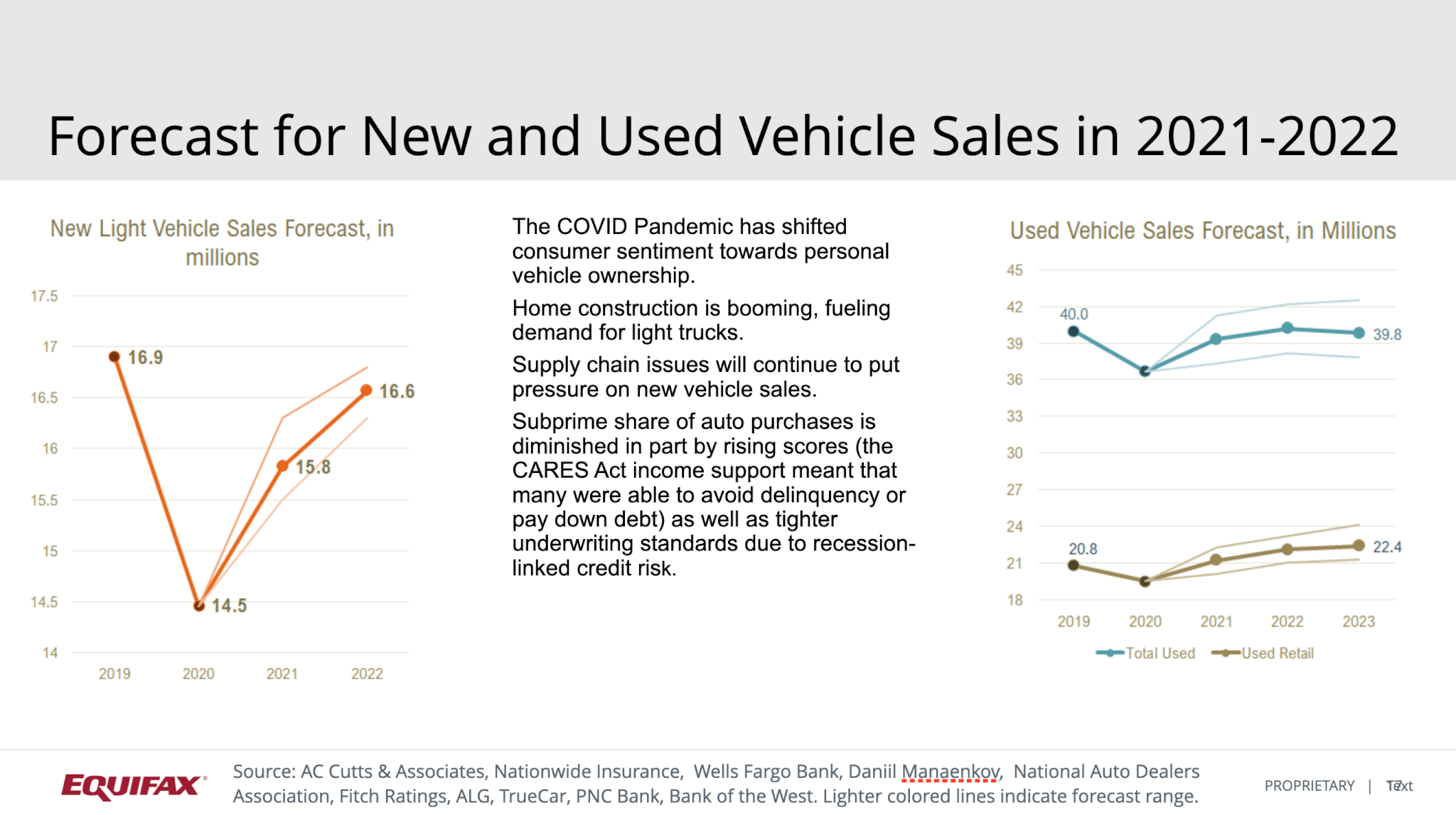 For more information, watch a replay of our webinar, Auto Insights that Drive Change.