June Retrospective: Past Months Show Consumers Hopeful Despite Economic Uncertainty
Reading time: 3 minutes
In the weeks since the United States declared a federal emergency in response to the Coronavirus/Covid-19 pandemic and began shutting down the economy, nearly a quarter of respondents in the latest bi-weekly Equifax Consumer Credit Confidence Survey have experienced a temporary and/or permanent layoff. Just 65% say they are financially stable, while only 32% are optimistic about their household's financial situation.
The Equifax Consumer Credit Confidence Survey seeks to measure how respondents feel about their personal finances and overall prospects as the Covid-19 pandemic unfolds. More than 1,000 Americans were surveyed in the week ending June 24, 2020.
Nearly half of respondents remain concerned about the overall economic impact of the Covid-19 pandemic, and 59% are worried that the economic fallout from the pandemic will negatively impact their own personal finances.
In this sixth wave of the survey, there was a significant jump over the prior two-week period in respondents' concern over the pandemic's medical impact on Americans' lives (28% from 23%), and a significant increase in the number of people surveyed who are following shelter-in-place guidelines at least 80% of the time (61% from 55%).
The current survey coincided with an increase in Covid-19 cases in states that had opened up in June. Interestingly, even as case numbers were rising, consumers' negative sentiment continued to drop from when the survey was initiated three months ago. Feelings of anxiety (26%), disappointment (10%), frustration (19%) and stress (25%) were down significantly from the first survey wave. Additionally, just 7% of respondents said they were upset by the pandemic, down from 14% in early April.
The U.S. personal savings rate in April was at an all-time high of 33%, although that dropped to just over 23% in May, according to the Federal Reserve Bank of St. Louis. Prior to the pandemic, the U.S. savings rate had never before exceeded 17.3%, and that was only once since 1995.
What are Americans doing with all of their savings? In the current Equifax survey, 81% of respondents said they were focused on saving money generally; of those, a third indicated they were saving into an investment account.
Equifax wanted to know more specifically why Americans had beefed up their savings, and how that would change as the pandemic's economic impact evolved. At the beginning of the pandemic, 58% of respondents said they were building up their emergency funds. In the current survey, that number dropped to 49%. On the other hand, over the same time frame, 28% of respondents (up from 22%) said they were saving to invest, and 56% (up from 51%) indicated they were saving for their retirement. When asked if they were likely to expand their investment savings over the next six months, an equal share (29%) said they were very likely or not very likely to do so, with the remaining respondents reporting they were not planning to make a change or didn't know.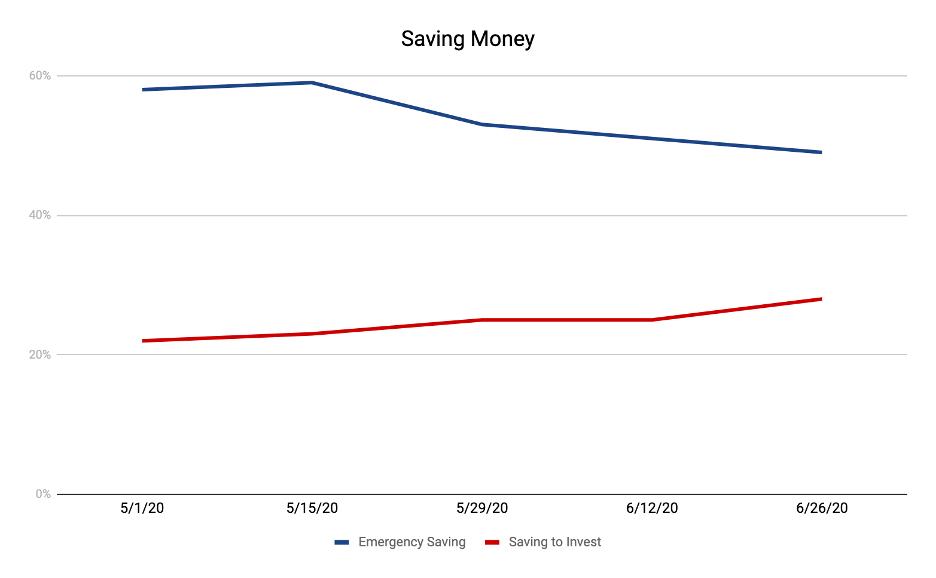 Finally, the number of survey respondents concerned about identity theft as a result of the Covid-19 pandemic fell to 41% from 47% eight weeks ago.
The survey was conducted online and balanced so that gender, age group, employment status and region represent those over 18 years of age in the United States per Census estimates for 2018.