Overview
Maximize Acquisition Efforts by Reaching the Right Consumers
Identifying prospective customers that are likely to convert can be challenging.

Our acquisition solutions help marketers find and reach the right prospects and get them to say "yes" more. We offer advanced consumer financial insights and modeling technology so you can find high-potential consumers who are more likely to be able to spend, save, invest, or borrow. Furthermore, you can confidently expand broaden target audiences and deliver the right offer to the right consumer or business across offline and digital channels. Partner with us to better engage – and win – new customers.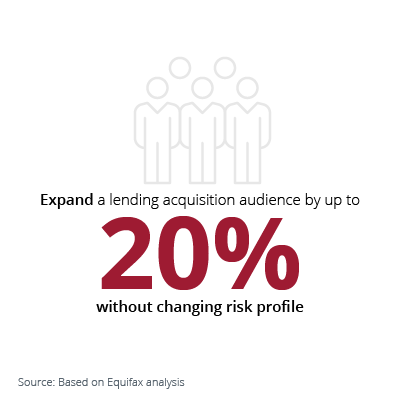 Financial Services
Find asset opportunity and expand lending audiences while mitigating risk.

Automotive
Better identify consumers likely in-market for a new car or loan/lease financing.
Fintech
Identify and target high-potential consumers with insights on financial capacity.
Mortgage & Housing
Assess consumers for new loans and rentals.
Boost your acquisition efforts
Leverage insights on the consumer wallet
Broaden prospect audiences
Promote financial inclusion
Use digital channels
Enhance the customer experience
Minimize fraud
Identify consumers that can spend or invest
Reach in-market consumers seeking credit
Ready to Complete Your Task?
Recommended Products
Need Help deciding?
Connect with our sales team today to get a product consultation.
Target the Young Affluent
Tips to identify, attract, and build relationships with young affluent consumers
Boost lending acquisition
Discover 6 tips to revitalize your lending acquisition campaigns