Product Overview
Government agencies face challenges in determining eligibility and remitting benefits to individuals moving in and out of the criminal justice system. Access the largest real time, nationwide, and historical incarceration data network that interfaces with over 2,800 jails and correctional facilities.

Perform point-in-time searches or monitor specific populations, such as Medicaid or SNAP/TANF beneficiaries, unemployment insurance claimants, and hard-to-locate non-custodial parents.
Maximize Benefit Reach with Incarceration Intelligence
Get a more comprehensive picture of specific individuals moving in and out of the criminal justice system to help your agency mitigate overpayments and enable smooth reinstatement of medical, nutrition, housing and other support lifelines upon release.
Access the largest, nationwide incarceration data network
2,800
Interfaces with over 2,800 jails and correctional facilities
85%
Over 85% of all incarcerations in the US
160M
Historical booking records maintained, 1M+ records added monthly
"This is the most valuable tool in our child support enforcement arsenal."
Jacob Van Der Oort, Kentucky Division of Child Support
Real-Time Monitoring of New Incarceration Activity
With Incarceration Verification, agencies are able to monitor target populations as they move in and out of incarceration. Notifications upon booking can help prevent unnecessary payments, while notifications on release can trigger processes that help individuals regain access to benefits. Get immediate alerts on the following:
Booking into an incarceration facility
Serving a certain length of stay (e.g., 6 months)
Release from an incarceration facility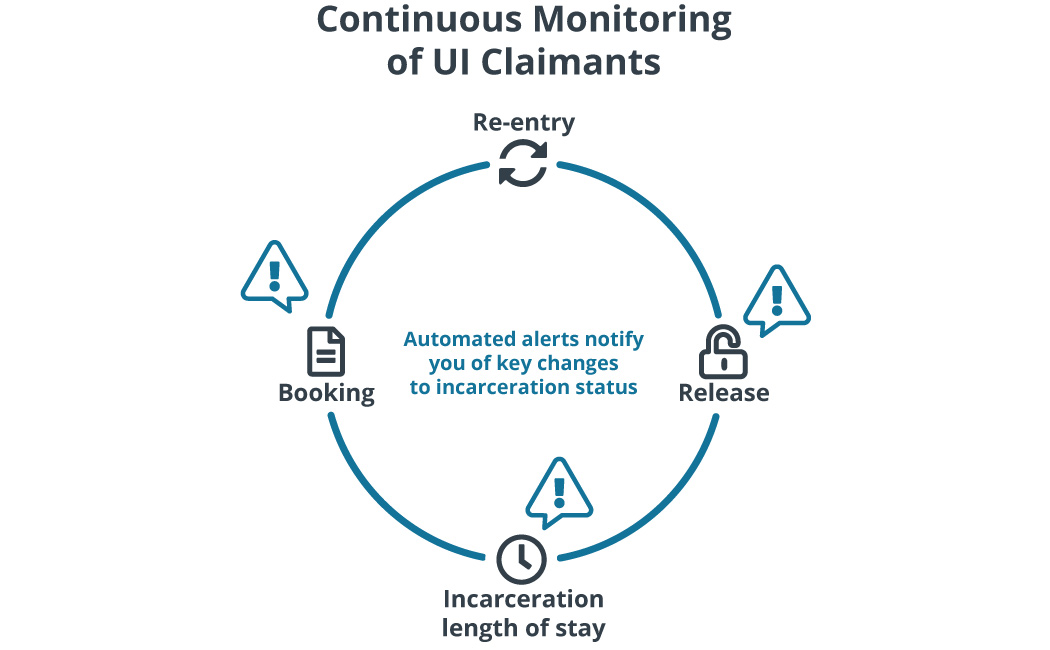 Related Products & Solutions
Social Service Verification
Use The Work Number® to verify the employment and income information in real time to provide clients the right government assistance in their time of need
Instant Client Insights (ICI) Suite
Promote continuity of benefits with data-driven insights from application through renewal
Property Verification
Verify residential property ownership within seconds
Account Verification
Mitigate risk by verifying the identity of consumers with their account numbers
FraudIQ Authenticate
Risk-based authentication helps prevent identity fraud without disrupting the customer experience
Contact Us
Connect with our sales team and discover how this product can meet your business needs.
Insights from Our Experts
Discover industry trends, insights, and customer stories that address business challenges and improve results.