Insight
Survey: Inflation, Gas Prices and Paying Bills at the Forefront of Many Consumers' Minds in 2022
EQUIPPING BUSINESSES AND CONSUMERS with credit information and resources is at the core of Equifax's purpose: helping people live their financial best.
That's why, as part of its on-going focus on financial inclusion and supporting consumers on their financial journey, Equifax conducted its sixth Financial Literacy Month Survey of more than 1,000 U.S. consumers to understand their financial knowledge, outlook on the future, and their use and attitudes toward credit, Buy Now, Pay Later, and alternative data.
Here's a quick breakdown of the results:
Top financial concerns and financial behaviors
The survey found that the top financial concern weighing on U.S. consumers is paying their bills (48%), a 19-point increase from last year's 29%. Living debt-free (34%), having an emergency fund (33%), retiring (23%), and owning a home (23%) rounded out the top five concerns.
In terms of consumer behavior, more than two-thirds (68%) of those surveyed have created a budget in the last 12 months and most (56%) have stuck to it. Interestingly, when you break that down further by age group, you find that more respondents aged 65+ have an emergency fund (72%), compared to those ages 18-24 (61%), 25-44 (53%) and 45-64 (59%).
Also, more than half of respondents (52%) are saving for retirement, typically by using a savings account (50%) and contributing to a 401k each pay period (61%). Notably, 58% of respondents are worried about affording to retire, with only 19% stating they are not currently worried, indicating that it could become a concern in the future.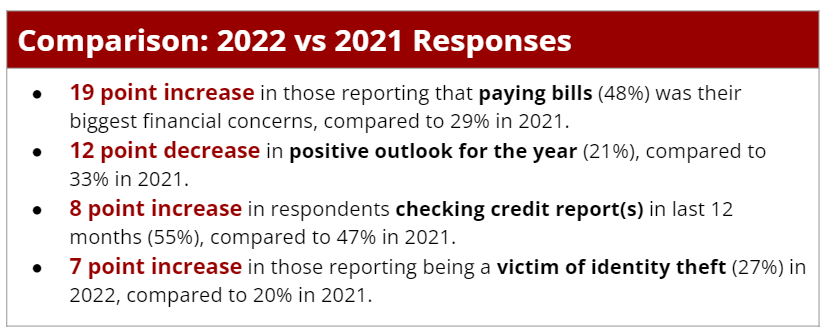 2022 economic outlook
Sentiment around survey respondents' 2022 economic outlook was mixed. Only one in five (21%) respondents feel positive about the future, which is a 12-point decrease in positive outlook for the year, compared to 33% in 2021. In this year's survey, another 36% had a negative outlook, 27% were neutral, and 6% didn't know.
While more than half (53%) of respondents are still concerned about how the ongoing pandemic will impact their financial situation in 2022, it should come as no surprise that inflation (62%) and gas prices (54%) are at the forefront of many consumers' minds this year.
Credit attitudes and behaviors
More than half of respondents (60%) have checked their credit report within the last week or month, with most people (57%) saying they checked their report to confirm the information is correct.
Over half of respondents are paying their bills on time every time (65%) and paying off debt (55%) in an effort to improve their credit scores. However, one in six (17%) are not taking any steps to improve their credit scores.
Additionally, about half of respondents feel it is important to check their credit reports and scores regularly to closely monitor for any changes (57%), help better protect against theft or fraud (45%), and to know their scores/reports for financial decisions (43%).
Unfortunately, the survey also found that there was a seven-point increase in those reporting being the victim of identity theft with 27% in 2022, compared to 20% in 2021. Of those who have experienced identity theft, it led to the following financial consequences: preventing individuals from getting approved for a credit card (20%), obtaining a low interest rate for a loan (19%), and from turning on utilities in a new apartment or home (18%). Among those who have yet to experience identity theft, almost half (44%) said they would not know what to do if the event were to happen.
Buy Now, Pay Later and alternative data
New to the survey this year were questions related to consumers' knowledge, use and attitudes toward Buy Now, Pay Later (BNPL) and alternative data.
Nearly half of respondents (49%) stated they were extremely or very familiar with the term. However, only 20% of respondents said they have taken advantage of BNPL financing. Interestingly, of those respondents who have used BNPL, 70% said they would use BNPL financing again in the future.
On the flip side, when asked how familiar consumers are with alternative data, the majority (57%) said they are not at all familiar. And when asked if they would be in favor of having alternative data incorporated into their credit score's calculations, only about one-third (30%) were against it, with another one-third (33%) unsure, perhaps due to lack of awareness.
But digging a little deeper, when asked what payment history they would be in favor of including in their credit score's calculation, utility payments (77%), cell phone payments (61%) and rent payments (56%) were at the top of the list. It's important to note that alternative data - or data not found in traditional credit reports - could score up to 90% of previously unscorable consumers.
As Financial Literacy Month comes to an end, the survey findings underscore the need for more financial education, resources, and innovative services - for businesses and consumers alike - that broaden access to credit and advocate for a more inclusive economy.
Earlier this year, free weekly credit reports were jointly extended by Equifax, Experian and TransUnion through the end of 2022 via www.annualcreditreport.com. The Equifax Knowledge Center covers topics from how to establish credit when you don't have credit to what is a good credit score to types of identity theft, and much more.