News
Introducing Kount 360: A Comprehensive Identity and Payments Platform
OVER THE PAST TWO YEARS, Kount, an Equifax company, has remained focused on driving new product innovation to help its customers around the world better protect and enhance their digital presence. As a result of this dedication, Kount and Equifax announced the launch of Kount 360, a new identity and payments solution powered by the Equifax Cloud™ and designed for businesses spanning multiple industries, regardless of size.
Brad Wiskirchen, General Manager of Kount, an Equifax company, is answering a few questions about the launch and what it means for fraud protection moving forward.
What is the market challenge that Kount 360 is helping to solve?
BW: Fraud is an issue that impacts nearly every industry, including retail, restaurants, travel and financial services, among others. And with more and more consumers opting to do business via digital channels, this makes fraudulent activity even more of a threat. Businesses are under constant pressure to provide consistent and secure online experiences.
For example, retail e-commerce sales in the U.S. are expected to grow 56 percent between 2021 and 2026. At the same time, e-commerce losses to digital payment fraud in 2022 amounted to $41 billion globally, and industry analysts predict that figure will reach $48 billion by the end of 2023.
Kount 360 is the only platform that can address and manage fraud at every stage of the customer journey while also delivering a more frictionless experience for consumers.
How does Kount 360 work?
BW: Kount 360 provides our clients with an easy-to-use Equifax Cloud-based platform that streamlines access to multiple Kount solutions and integrates Kount and Equifax data, all within a single user interface. By providing better access to first-party device information, email insights, payment history and more, Kount 360 delivers end-to-end protection of the digital consumer journey. Additionally, these data attributes can reduce dependency on technology platforms and providers that only supply third-party data and improve marketing accuracy by verifying legitimate consumer profiles.
The platform also uses advanced artificial intelligence (AI) for contextualizing data and scoring along with supervised and unsupervised machine learning models to promote stability, longevity, and relevance. Each helps to reduce manual, time intensive processes while providing accurate decisioning capabilities that can be automated or adjusted to fit the needs of a business.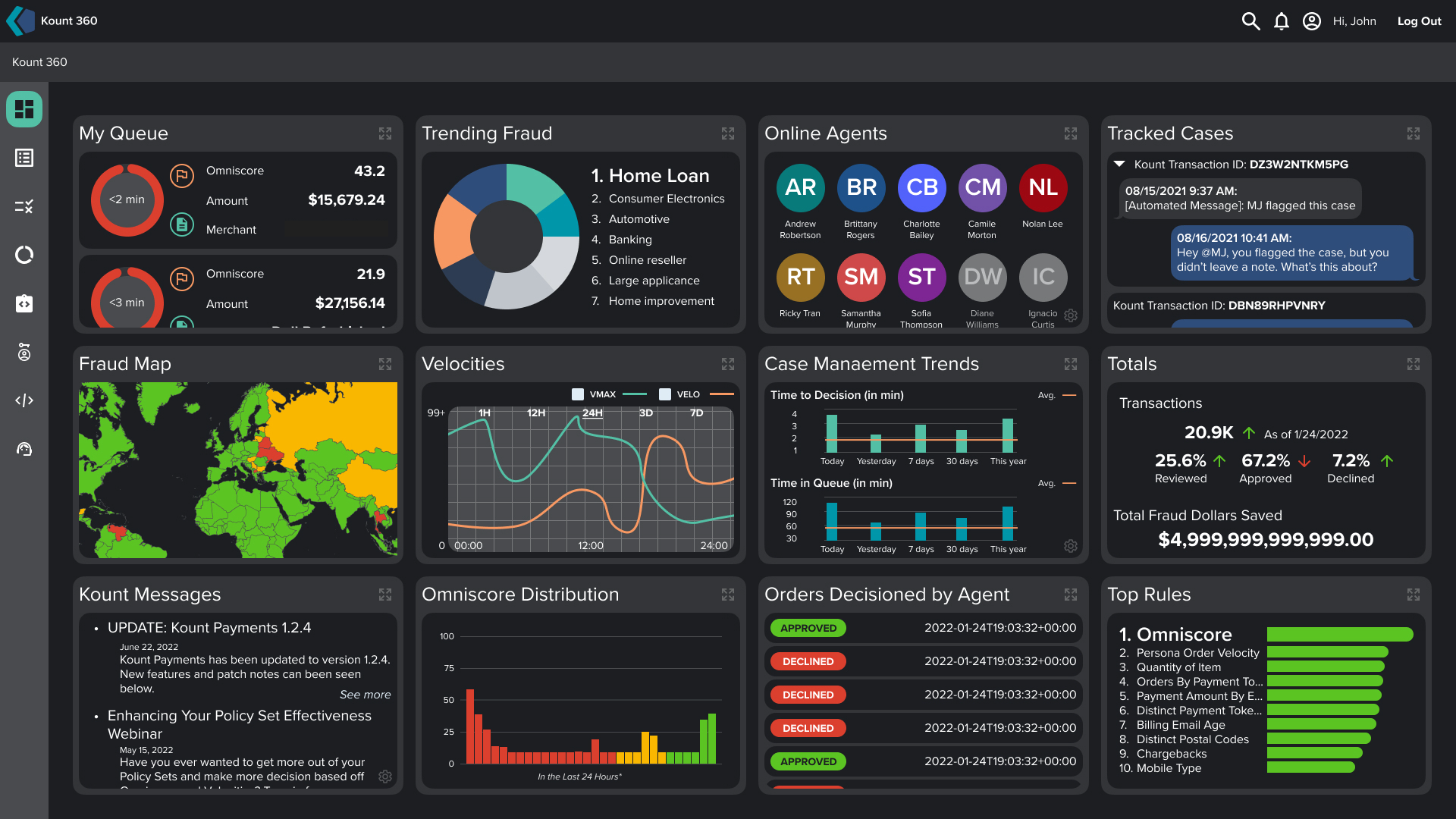 Kount 360's intuitive and elegant interface makes it easy for users to navigate and leverage the full spectrum of Kount's fraud solutions.
What are the key benefits of Kount 360 for businesses?
BW: The Kount 360 platform helps businesses:
Combat new attack vectors, such as address manipulation and cross-merchant card testing

Eliminate traditional account takeover fraud while delivering passwordless authentication and reusable identities

Detect and prevent Personal Identifiable Information (PII)-cycling card testing attacks in real time

Utilize optional pre-built decisioning models for email insights, address verification, and more
The platform also includes features that are designed to enable users and analysts to develop rapid rules deployment and intuitive fraud strategies. As a result, businesses can prevent more fraudulent activities and reduce false positives up to an additional 20 percent.
To learn more about Kount 360, visit kount.com.