News
Future Innovators Get Real-Life Experience with Equifax's Academic Partnership Program
College students have the opportunity to earn real-life business experience as part of Equifax's Academic Partnerships program.
Equifax recognizes that it's critical to reach the innovators of tomorrow and challenge them with today's problems. That's why we dedicate time and resources to educate young talent with this outreach initiative.
The program features a competition of sorts, a Capstone Project, that encourages college students to think outside-the-box and come up with fresh solutions.
We want to highlight three recent Capstone Projects, which have yielded numerous accolades for the participants and solved valuable business challenges for several Equifax business units.
Georgia Tech:
Georgia Tech's partnership with Equifax began in 2016 and has been strong ever since.
In May 2022, Georgia Tech's Denning Technology & Management (T&M) Program Capstone team explored sophisticated machine learning disciplines to describe the risk profile associated with each of Equifax's clients to allow for a more targeted collections approach.
The tool is now used across Equifax to increase efficiency.
The team co-won the best Capstone Project for the 2021-2022 year, and Equifax teams have won in 2020 (tie for best) and 2017 (second place), as well.
John Stanford, senior manager for corporate relations and student counseling for the T&M Program, says that Equifax's partnership fills an unmet academic need and opens new career possibilities.
"Big data can either excite or scare students, so when Denning Scholars meet with Equifax's executives through the T&M Program, it normalizes an industry many have never been exposed to before. Most notably, Victoria Massaro studied international affairs and modern languages at the Ivan Allen College of Liberal Arts while minoring in technology & business through T&M. This September, Massaro was promoted to mergers & acquisitions integration program manager at Equifax."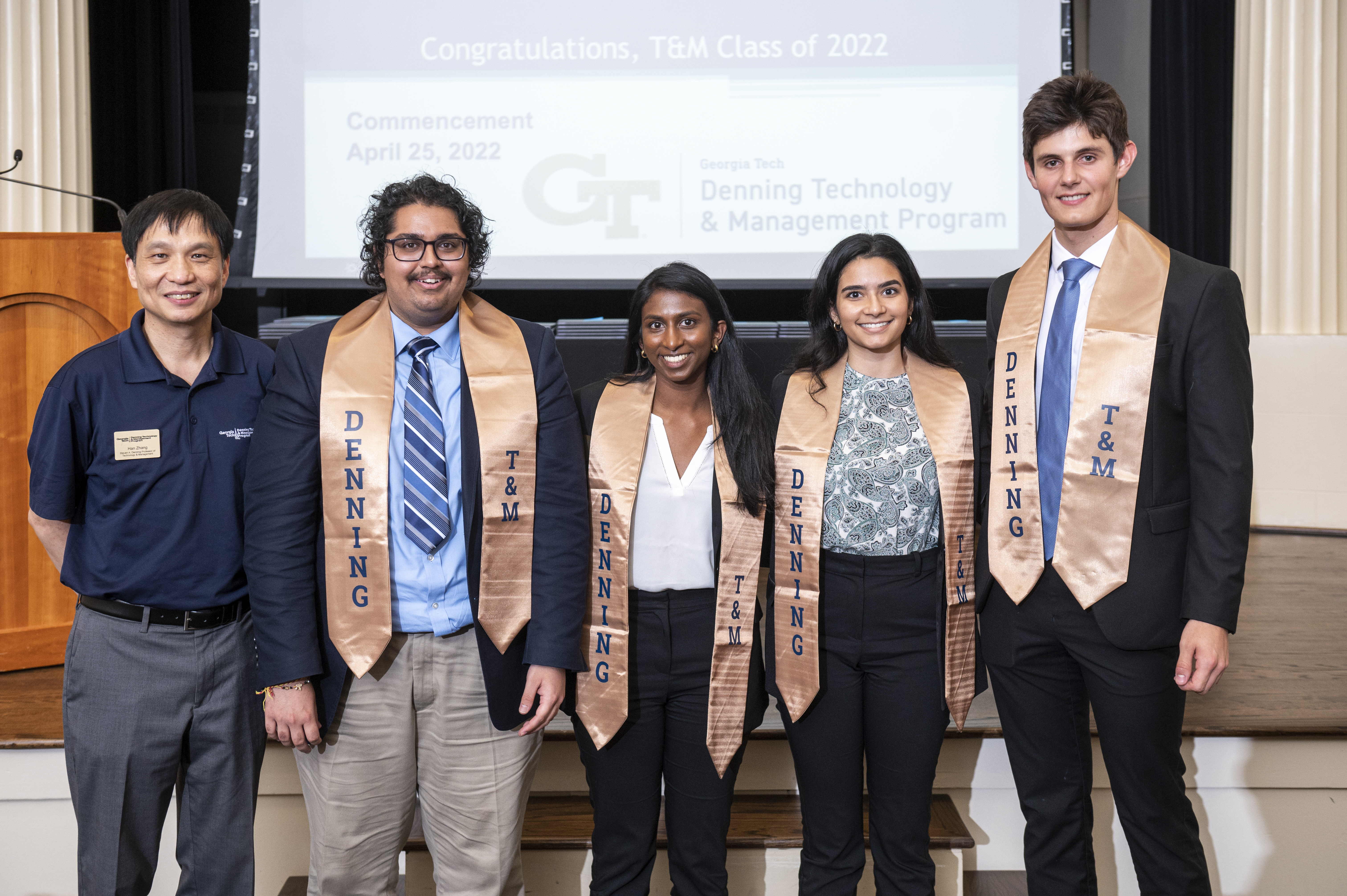 Dr. Han Zhang (T&M Program faculty director) with Gururaj Deshpande (biomedical engineering), Sreya Atmuri (computer science), Raveena Vellingiri (neuroscience), and Nicholas W. Meyer (computer engineering).
One of the former Georgia Tech team members, Nicholas Meyer, was a full-time summer 2022 intern in the Data Science Lab at Equifax. Meyer said he's currently working on cutting-edge "stuff" as a result of the academic partnership.
"With this program, it allowed us to get our hands really dirty. Equifax gave us a real tangible problem to solve, and they paired us with the best of the best, crème de la crème, in the industry," Meyer said.
Meyer said the skills he learned during the program are helping him kick off his career.
"The thing that I enjoyed the most was personal growth from this invaluable experience. The culture of the company is what drew me to the internship," Meyer said.
In July 2022, students completing their Master of Science in Analytics participated in a Capstone Project and their challenge was to evaluate internal spend for Equifax buying teams (sourcing, software, and data) that will drive an "intelligent procurement score(s)" to reduce spend, increase revenue, and reduce risk.
The team leveraged leading technology and tools, including the Equifax Ignite sandbox to build a predictive model that can help Equifax make more intelligent procurement decisions.
Kennesaw State University:
Kennesaw State University has been a strong partner in academic partnerships with Equifax dating back to 2017.
In the latest project, KSU students had the objective to build a predictive model that was shown to be accurate for identifying consumers who were ideal for extending loans and/or lines of credit.
The students were also required to provide adverse action codes (reason codes) as to why the consumer did not have a perfect credit score. Lastly, the students were asked to build an interface that allowed the user to observe how their credit score changes, given model input changes. They were supplied an Equifax dataset which was specially created for classroom use.
The team, aptly named CredAbility, won the 2022 KSU Capstone competition and received a cash prize for their efforts.
Bill Franks, Director at Kennesaw State University's Center for Statistics and Analytical Research, said the experience is invaluable for students.
"The nature of the partnership is we really have a goal to be a very applied program here at KSU and our school of data and analytics, across all levels of academic programs, we want to put students out who actually have the academic background but have some real-world experience as well," Franks said.
These academic partnerships are critical to the success of Equifax.
Equifax works hard to foster a culture that attracts exceptional talent. That's exactly what these programs are doing. Team leaders can offer hand-tailored advice throughout the journey for these young minds. The end result is an immense amount of professional development that will help change the world of tomorrow.