Insight
D&A Innovation at Equifax: A Q&A with Harald Schneider, Chief Data & Analytics Officer
HARNESSING CLOUD TECHNOLOGY to drive data and analytics innovation is top of mind for Harald Schneider, the recently-appointed Chief & Data Analytics Officer at Equifax. Prior to Equifax, Schneider held senior leadership roles at Visa, Tandem Bank, Capital One and Citigroup with a focus on data products and analytics.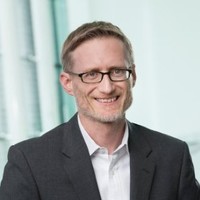 These days, when Schneider is not spending time with his wife and two daughters or fulfilling his passion for running, he is helping drive data and analytics industry leadership and innovation at Equifax – harnessing the company's cloud transformation to do just that.
Schneider shares his ambitions for his role and visions for his contributions at Equifax in a Q&A.
You've been in the industry for two decades, but much has changed in the two years since the onset of the COVID-19 pandemic. What are the most valuable lessons you learned during COVID that inform your current approach to D&A?
HS: For me, the key theme is really the rise of digital. From a delivery service perspective, you see more consumers shifting to online shopping and getting deliveries as opposed to going out shopping in-person. And because of the pandemic, many of those consumers have made the jump to online purchases for the first time. So we have really seen an accelerated change in consumer behavior.
With that, consumer expectations around fast, easy fulfillment and frictionless experiences have gained even more importance. This means that, for Equifax, business areas such as Identity and Fraud are becoming even more important. If more and more commercial activities are moving online, then the ability to verify the person is who they say they are is becoming so much more important.
How will the Equifax Cloud™ help to drive data and analytics innovation?
HS: It's a game changer across the board. It was one of the reasons that helped me make the decision to come to Equifax, because I know how impactful the transformation is. There are several ways that the cloud helps fuel innovation in D&A:
The cloud opens up access to more data that wouldn't have been used in the past. Without cloud technology, businesses often must narrow the scope of their data sets to conform to technology constraints and processing speeds. We don't have those limitations anymore, which enables deeper data insights.

We can combine the data in a more flexible way – which means we can create more value from it. We can also form comprehensive views that are only possible with integrated, cloud-native architecture. (Of course, the data will be logically separated with strict compliance and data governance controls.)

The cloud drives faster adoption of Artificial Intelligence (AI) capabilities – meaning that Equifax can continue to be at the forefront of machine learning and explainable AI technology. As a proof point, we are driving value and differentiation with our more than two dozen patents in these areas over the last several years.

With the Equifax Data Fabric powered by the cloud, we can now create a level of standardization – and develop reusable components for our products – that will allow us to be much faster and to drive replicable approaches globally. We've had strong New Product Innovation programs in place within all of our regions for quite some time. However, these past programs were built on our legacy infrastructure, making it more difficult to lift and shift innovations from one market to another. We can now share the learnings, use cases, and – to the extent possible with local data & regulatory requirements – the solutions.

Through continuous delivery on the cloud, we can make ongoing updates without requiring actions on the client side – and that is a true value-add and differentiator.
Equifax has a strong academic partnership program, working closely with institutions like the Georgia Institute of Technology (Georgia Tech) and Kennesaw State University. How important is Data & Analytics innovation at the university level in driving the next generation of D&A professionals?
HS: It's important for us to collaborate with higher education institutions to help stay on the cutting edge of what's new in D&A and to bring fresh perspectives to the challenges that we're continuously working to solve. Collaborating with universities is also one way to get a more holistic point of view externally.
Beyond our innovation collaboration, partnering with universities enables us to recruit important new talent to our global D&A team. We're wired for growth and continuously looking to expand our team.
Equifax has led the industry with patented innovation, including introducing NeuroDecision® Technology. What other exciting trends will you tap into as you steer the innovation lab forward?
HS: There are a few trends in the industry that I've been following closely, starting with ethics in AI. Not only are consumers and society as a whole beginning to understand the importance of AI, it's also a place where Equifax can drive innovation. Similar to privacy, public expectations around AI will evolve, and we have a great opportunity to galvanize the industry in dialogues and in developing leading solutions.
Second, improved Equifax technology capabilities, coupled with changes in customer expectations, positions us to take advantage of more powerful data analysis with real-time models and alerts. By leveraging high-frequency modeling, we can analyze greater amounts of data at finer time intervals – such as hourly or daily – and provide more valuable insights that our customers can act upon in the moment.
Last, we have an immense opportunity to continue advancing our leadership in graph analytics and network strategies, particularly with our growth in the Identity and Fraud space.
These three trends are top of mind right now, but the key thing I really want to get across is my excitement to be a part of this company. Equifax is wired for growth. We have world-class technology, and I'm proud to lead our world-class data organization as Equifax continues its growth and becomes much more than a traditional credit bureau.
For information on careers in Data & Analytics at Equifax, visit our
website
.