Insight
Automation and AI: Enhancing the Customer & Employee Experience
ARTIFICIAL INTELLIGENCE AND AUTOMATION ARE VITAL TO DRIVING INNOVATION in data and analytics — and raising the bar on the customer experience. As customers begin to rely on faster, more efficient decision capabilities, Equifax is innovating with the latest AI and automation technologies to power smarter, more integrated insights. With its acquisition of Kount in 2021, Equifax expanded its capabilities with AI-driven identity and fraud prevention solutions. With the Equifax Cloud™, the company is unifying all of its differentiated data with industry-leading security and privacy in place, while leveraging best-in-class use of cloud automation. Now Equifax leaders are sharing key learnings to help other organizations navigate their own digital transformations.
Equifax recently joined the Bloomberg Live event, Intelligent Automation: Creating the Workforce of the Future, anchored by Bloomberg journalists Janet Wu and Brody Ford. Bryson Koehler, Chief Product, Data, Analytics & Technology Officer at Equifax, showcased how automation is enabling an optimal experience for customers and employees. Read on for key insights from the panel discussion moderated by Wu, "Leveraging AI to Enhance the Customer Experience" or watch the full session which includes commentary from fellow panelist Joshua Bomba, Chief Information Technology Officer at State Employees' Credit Union in North Carolina.
Automation boons for consumers and companies
For roughly 880 million consumers across the 25 countries Equifax serves, Koehler said that automation is crucial to help improve interactions. From income and employment verifications that help lenders get the right decision to the right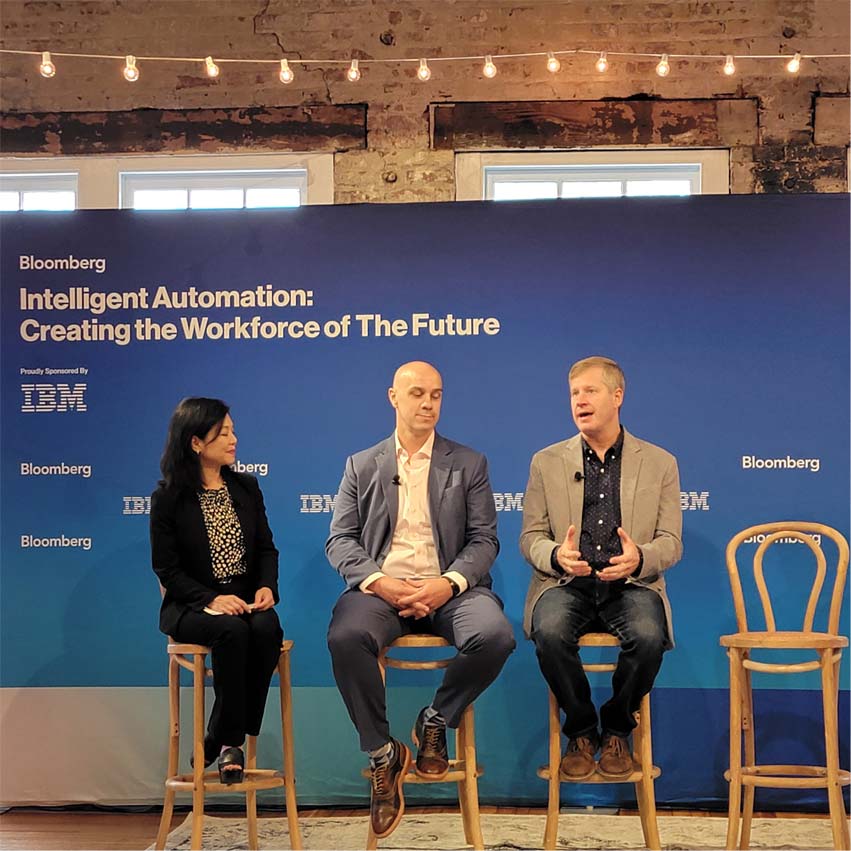 consumer at the right time, to its rich identity and fraud portfolio, Equifax harnesses automation to use the signals that come in – or the data it collects – to fundamentally help people make smarter decisions.
On its journey to become the only global cloud-native data and analytics company of its scale, Equifax has remained wired for growth, delivering record levels of product innovation and performance. But driving wholesale change can be challenging, even when integrating automation. As moderator Janet Wu put it, automation can be "scary" to some at first, but then companies grow to wonder how they ever lived without it. When asked how they handle pushback around innovation in AI and automation at their organizations, Koehler said that demonstrating early success is key in building confidence.
The Equifax Cloud transformation has helped the executive team embrace the benefits of widespread change, Koehler added. He has already started seeing examples of this at Equifax, including where AI has been incorporated into credit decisioning capabilities, supporting a 50 percent reduction in bad debt and a 26 percent increase in approvals to the right people, for the right lending activity.
"Those are real outcomes to real consumers that not only benefit us as a population but the business as well," said Koehler. "As you demonstrate those [wins] and then repeat it, you build confidence."
New opportunities for employee growth and satisfaction
While AI and automation can certainly benefit consumers, it brings a whole new set of opportunities to employees at those organizations. Although attracting and retaining top talent to handle ever-growing advancements in technology can be a challenge for any organization, Koehler pointed out the advantage for employees that are trained alongside each innovation, as they're equipped with new, more advanced skills than they may have started with.
"I always tell my team, one of the things I do as a leader is to make you more employable," said Koehler. "We've been able to attract great talent because we've been on the leading side in the financial services space around our cloud transformation, and we've been working with very advanced technologies that are really helping people continue to improve their own skills."
Equifax has cracked the challenge, according to Koehler: Not only has the company deployed automation around the world; it has managed to increase employee satisfaction related to the process improvements. More automation unlocks higher-value tasks for bright minds to focus on — and requires a greater skill set, as more rudimentary activities have been digitized. As a result, employees can upskill and teams can grow, spending their time on more important, thought-provoking work.
"When you think about the employee journey – take somebody that seven years ago was just working on a kind of rudimentary task," said Koehler. "Then before they know it, seven years have gone by and now they're a system reliability engineer… They've completely changed their own personal career trajectory."