Access our financial insights through leading marketing platforms and technologies
Available across the Digital Ecosystem
Work with service providers you can trust
Addressable TV Advertising
Seamlessly access the data you need from your current platforms
Access our financial insights from the data marketplaces, DMPs, and other digital providers that you already use. Choose the data you need to enhance your marketing campaigns and models - from credit, to wealth and economic insights, to digital targeting segments based on buying propensity and financial capacity, to commercial, and more. Combine our financial insights with your own to boost your analytics and decision-making - and better reach your desired audiences.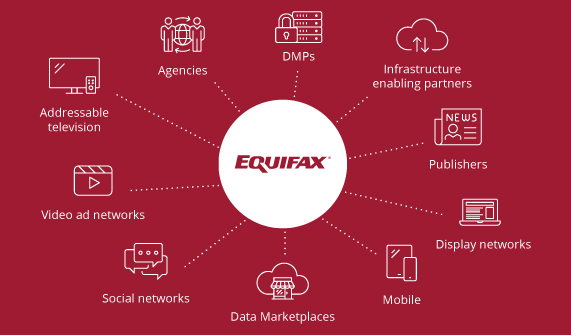 Gain visibility into the consumer wallet

"Equifax is unique in its ability to create premium audience segments derived from aggregated and anonymous financial and economic data. Advertisers know a lot about their target audience, and these premium data products - which help segment audiences based on estimated financial behaviors and purchasing power - can help maximize advertising ROI."
Ali Bohra, director of product marketing, Adobe
Partner with us
Reach out to discuss how partnering with Equifax can help you expand your business.
Explore Best Practices for your Digital Advertising