Mortgage Lender Puts The Work Number® to Work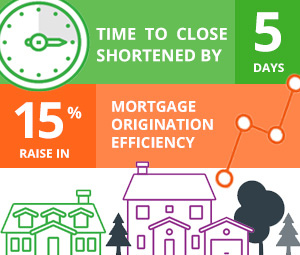 As the mortgage industry moves towards a digital lending process, lenders may be looking for ways to reduce the need to collect paystubs and W-2s.
By automating employment and income verifications, mortgage lenders - like AmeriSave Mortgage Corporation - can save time for both borrowers and staff. As a result of automating the verification process, AmeriSave realized several benefits, including (as of March 2018):
30% faster turn times for pipeline year-over-year
15% improvement in mortgage origination efficiency
5 days shorter close time
AmeriSave leveraged the following solutions from Equifax:
The Work Number, as well as the manual verification solution, to verify income and employment for 80% of approximately 25,000 loans
The 4506-T tax transcript solution to verify W-2 information on more than 72% of applicants
Combined, these two verification solutions from Equifax have produced significant efficiency gains for AmeriSave staff while eliminating a tedious documentation process for its borrowers. View the infographic for more details.
Interested in speaking to an Equifax representative to learn more? Please click here.
Related Links