Lock or Freeze
Why
lock

or

freeze


your credit report?

Security freezes and credit report locks help you control who can access your credit reports – without impacting your credit scores.
This can help you restrict other people from trying to use your information to open credit cards, apply for loans, or get mortgages in your name.
What are the differences
between
locking

and

freezing

your Equifax credit report?

At their most basic, a credit report lock and a security freeze both generally prevent unauthorized access to your credit report to open new credit accounts. But they don't work in exactly the same way. Here is some information to help you decide which is right for you.
Credit Report Lock
Credit report locks are mobile-enabled and use usernames and passwords for authentication.
Security Freeze
Security freezes, also known as credit freezes, use a PIN-based system for authentication.
Credit report locks are free on your Equifax credit report by enrolling in Lock & Alert™
Locking or unlocking your Equifax credit report can be done in our mobile app or online
You will need your username and password to verify your identity when you want to lock or unlock your Equifax credit report
Your credit report must be separately locked with each of the three major credit bureaus. Options to lock your credit report may also be available at the other two major credit bureaus
If you forget your username or password, you can recover it online
Placing, lifting and removing a security freeze on your Equifax credit report is free
Freezing or unfreezing can be done online, by phone, or by mail
You will need a PIN to verify your identity when you want to freeze or unfreeze your credit report
Freezes must be separately placed, lifted and/or removed with each of the three major credit bureaus
If you lose your PIN, you will need to contact the credit bureau where you placed the security freeze to verify your identity and receive a new PIN
When applying for credit you will need to remove a freeze,
or unlock your credit report, to provide lenders access
How to

Lock

or

Freeze


Your Equifax credit report
How to Lock Your
Equifax credit report
Enroll in Lock & Alert by downloading the mobile app or by visiting: www.equifax.com/lockandalert
Sign in to Lock & Alert and click or swipe to lock or unlock your Equifax credit report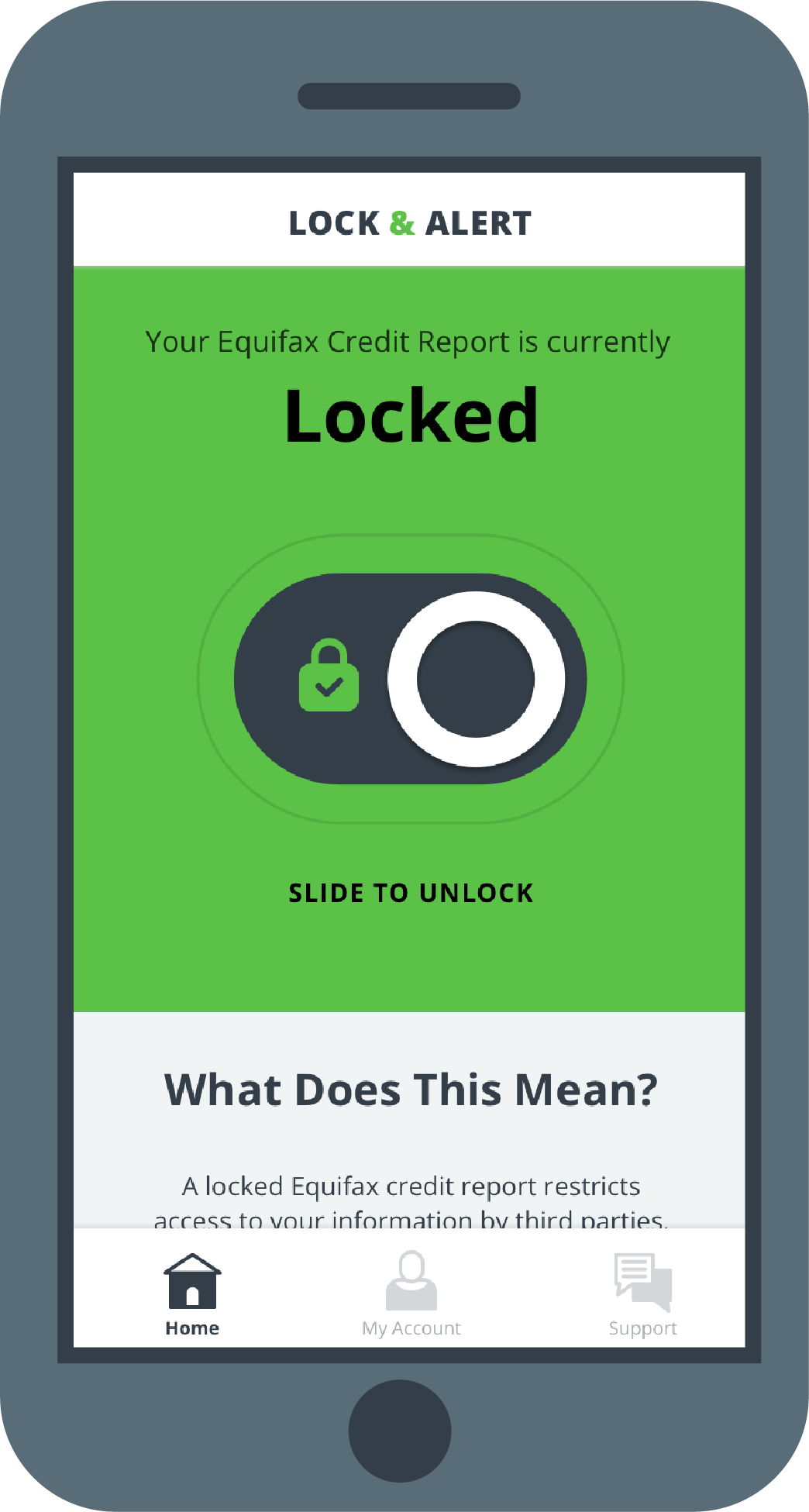 How to Freeze Your
Equifax credit report
Visit www.freeze.equifax.com

Or call 800-685-1111
(NY residents, call 800-349-9960)
Or mail a freeze request to:

Equifax Security Freeze
P.O. Box 105788
Atlanta, Georgia 30348

Provide the personal information required to verify your identity
Freeze and unfreeze your Equifax credit report by repeating the steps above with your PIN