Rising Unemployment Worries Consumers
Reading time: 3 minutes
Every other week, Equifax conducts a Consumer Credit Confidence Survey to measure consumers' credit and personal finance concerns amid the Covid-19 Pandemic. These are the results from the second survey. Other survey results may be found here.
At the end of April, nearly 70% of Americans were worried about the impact of the Coronavirus/Covid-19 pandemic on their financial future, according to the latest installment of Equifax's biweekly Consumer Credit Confidence Survey.
Compared to respondents' employment status at the beginning of 2020, the percentage of people who are not employed (including retirees, students and homemakers) rose from 31% to 34%, while the percentage of those unemployed and not looking for work increased from 3% to 4%. The percentage of people who are employed and have a side business where they earned income decreased by 1 percentage point.
The number of respondents reporting their employment status tracks closely with the number of first-time and overall unemployment claims being reported by the Department of Labor, and is significantly lower than the rate of "employed" persons at the start of 2020. Twenty-one percent of survey respondents reported experiencing a permanent or temporary layoff as the result of Covid-19.
Although the number of unemployed Americans has risen sharply in the past six weeks, 31% of respondents reported feeling stressed about their household financial situation in the current survey. However, they also reported feeling significantly less anxious (29% from 38%) and frustrated (23% from 28%). The bi-weekly survey aims to determine how respondents feel about their personal finances and overall financial prospects during the Covid-19 pandemic.
While 83 percent reported being able to pay all their bills right now, among the 19% of respondents with medical bills, 27% reported they may not be able to pay those bills when they come due. More troubling, 68% are concerned that Covid-19 might further impact their family finances over the next six months while less than half (48%) are confident personal household finances will stabilize within six months.
On the other hand, nearly four-fifths of Americans reported they continue to save in at least one of four areas (emergencies, retirement/future, big purchases and investing).
This focus on saving was an unexpected bright spot in the current survey. Survey respondents say the biggest goals they are saving toward are emergencies (58%) and retirement/future (51%), followed by big purchases (27%) and investing (22%).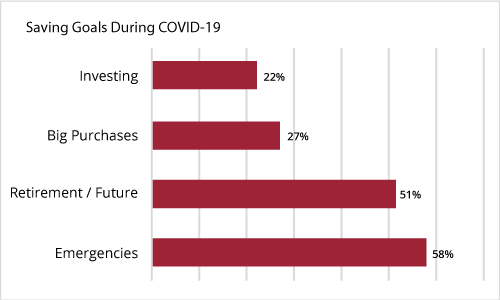 As Americans adapt to a significant uptick in time spent at home, respondents reported they were focusing more of their spending on household goods (40%), digital subscriptions (20%) and clothing (16%), all of which reflect significant increases from the first survey.
Looking toward the future, a plurality of respondents were interested in allowing lenders to see their utility payment histories (44%) and bank transactions (38%) to help better establish their credit scores.
The Equifax Consumer Credit Confidence Survey was conducted online and balanced so that gender, age group, employment status and region represent individuals over 18 years of age in the United States per census estimates for 2010.