More Americans Now Feel Optimistic About Their Household Finances
Reading time: 3 minutes
Every other week, Equifax conducts a Consumer Credit Confidence Survey to measure consumers' credit and personal finance concerns amid the Coronavirus/Covid-19 pandemic. What follows is an overview of the results from the third survey. Be sure to also take a look at the survey results for weeks one and two.
Over the past month, the unemployment rate has reached historical levels as the Covid-19 pandemic continues to wreak economic havoc, with the unemployment rate jumping an unprecedented 10.3 percentage points in April alone, to 14.3%.
While that number illustrates the financial challenges facing millions of Americans across the country, the latest installment of Equifax's biweekly Consumer Credit Confidence Survey found that people are actually feeling more positive about their household financial situation today than they were just one month ago when the first survey was conducted.
Thirty-one percent of respondents said they feel optimistic about their household's financial situation, up 4% from the first survey. The next most common positive sentiment was feeling accomplished, which increased from 19% to 23%. Feeling delighted also saw a significant boost (from 6% to 9%) from the first survey.
Encouragingly, respondents reported a similar percentage decrease in negative sentiment surrounding their household finances. The percentage of those who reported feeling anxious is down (to 28% from 34%), as is the percentage of those feeling frustrated (to 22% from 28%) and the percentage of those feeling stressed (to 27% from 32%).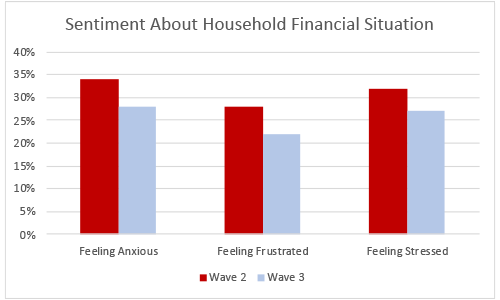 While consumer sentiment may be improving during the Covid-19 pandemic, the hard truth is that a growing number of Americans are still worried that the crisis could render them unable to handle long-term debt. Compared with our survey two weeks ago, a significantly higher percentage of respondents reported an inability to pay off long-term debt as a result of the Covid-19 pandemic (growing from 8% to 12%).
Additionally, a significant percentage of those who were employed at the start of 2020 have since lost their jobs. In our most recent survey, we found that the percentage of respondents who are employed has dropped from 70% to 67% since the start of 2020, and the percentage of those who report being unemployed has increased from 6% to 8%.
There is another encouraging sign in our latest survey results: Even as health care costs begin to pile up for more consumers, only 19% of respondents said they might not be able to pay their medical bills, down from 27% who felt that way just two weeks ago.
While it may be too early to tell if that positive sentiment is sustainable as the pandemic continues to affect the country in unpredictable ways, it is nonetheless an indication that some things may be looking up for the future.